Wulfenite #9 (Red Cloud Mine, Arizona, USA)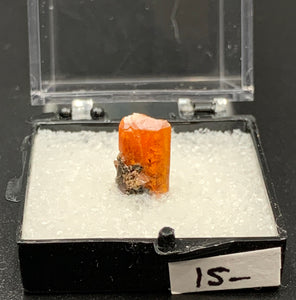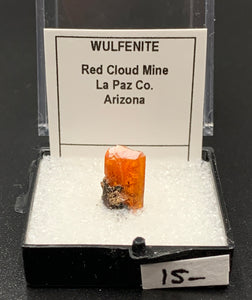 SKU: SKU: MIN-TN-WULF-9-15
*This is a very small miniature, known as a thumbnail specimen. Please examine scale photo and consider dimensions carefully.* Thumbnail specimens are mounted in small display boxes known as perky boxes, and contain locality information. They are designed so that they are ready for display, or may be unmounted for any use including jewelry supply. An ideal and efficient tiny treasure, for any collection
—————
Mineral Name: Wulfenite
Locality: Red Cloud Mine, Arizona, USA. 
Dimensions: .11" x .7" (3 mm x 18 mm)
Characteristics of this specimen: This a crystalline blade of Wulfenite. The color is a vibrant red-orange shade, and the blade varies from one section to another in levels of perfection. Delicate and beautiful. 
Care Notes: Wulfenite is 2.5-3 on Moh's scale, and is a brittle mineral--care must be taken to display properly. 
-----
PHYSICAL: 
Wulfenite is a sulfate mineral that typically occurs as tabular crystals in the oxidized zones of hydrothermal lead deposits. Colors that wulfenite may occur in include a striking orange, yellow or grey. Red Cloud is known for its nearly red shade of orange, and small flower-like blades—a piece of classic American mineralogy. 
Healing Properties: Wulfenite is associated with the root to solar plexus chakras--it is believed to enhance grounding and promote the healthy flow of energy. Wulfenite is used sometimes to remove energy blockages, and to enhance harmony and healthy emotional balance. 
-----
Please email us if you would like a video, or if you have more questions about this item.