White Buffalo #16 Sterling Silver Pendant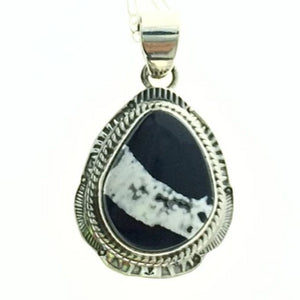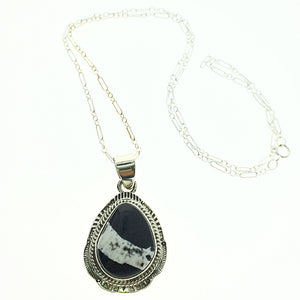 This is a beautiful sterling silver White Buffalo Turquoise pendant, on a thin 18" sterling silver chain! It combines white turquoise with black matrix, and rare orbicular patterns. The chain is included and sold as a set with this pendant--if you need a substitution on style and length, contact us and we can substitute another chain from our Sterling Silver Chain section.
White buffalo turquoise is a unique material found in the American Southwest. It is chemically a turquoise, but lacks the heavy metal inclusions which cause color in other turquoise varieties. White buffalo turquoise is found only in one region of Nevada, and is highly prized--it should not be confused with howlite and other lower quality stones. (See the Mineral Reference section for more information.)
Locality: Nevada, USA.
Dimensions: contact us
Keywords: White buffalo turquoise is named in honor of the White Buffalo Calf Woman, a sacred woman healer central to Lakota tradition. Wholeness, spiritual connection and expansion, and connection to nature.
Care for gemstones in sterling silver jewelry: 
As with all natural stones set in silver, these jewelry pieces should be removed when taking a shower, swimming, or entering a hot springs. Water (especially hot water) can damage natural materials and even cause settings to fail. This is especially true with gemstone rings!

*Though many gems and minerals have historical and cultural associations with healing properties, these items are sold for wear in jewelry, display, study, and collector interest only.