Variquoise #1 Thumbnail Specimen (Snowville, Utah, USA)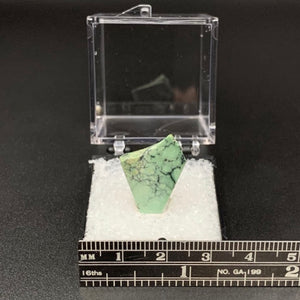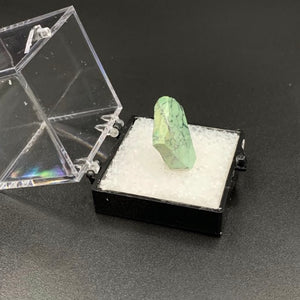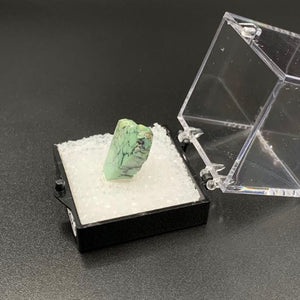 *This is a very small miniature, known as a thumbnail specimen. Please examine scale photo and consider dimensions carefully.* Thumbnail specimens are mounted in small display boxes known as perky boxes, and contain locality information. They are designed so that they are ready for display, or may be unmounted for any use including jewelry supply. An ideal and efficient tiny treasure, for any collection!
-----
Mineral Name: Variquoise

Locality: Snowville, Box Elder County, Utah.

Dimensions: 0.69" x 0.58" (18mm x 15mm)

Characteristics of this specimen: Variquoise is an unusual intergrowth of Variscite and Turquoise. It is generally not possible to differentiate between the two species, but Variquoise can vary in color and typically has a distinctive spider web matrix. These pieces have been polished on the face by our own Tim Grasso. Perfect for jewelry or display!

Care Notes: Turquoise, in particular, is sensitive to chemicals and heat. This combination of minerals should be kept out of the elements and out of water.

-----
Healing Keywords: Variquoise is associated with inner peace, compassion, and stress release. It is connected to trusting one's power and power of spirit.

-----
Please email us if you would like a video, or if you have more questions about this item.