Vanadinite on Goethite over Barite Crystal Cluster Mounted Miniature Mineral Specimen (Mibladen, Morocco)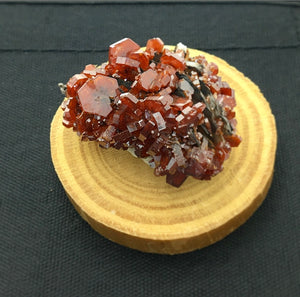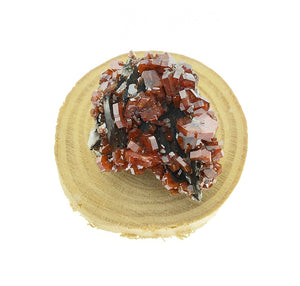 SKU: MIN-CLU-MOR-VAN54-001
*This is a minature specimen--please consider dimensions and examine scale photos carefully!*

This vibrantly shaded little beauty is fire engine red Vanadinite hexagonal crystals, on black goethite layered over white barite. This distinctive combination is a classic mineral specimen from Mibladen, Morocco. This sparkling miniature crystal cluster is delicate, and has been mounted on an 1.50" wood disc for display. An ideal and efficient addition to any mineral collection!
----
Locality: Mibladen, Morocco.

Dimensions:
1.13" x 1.38" x 0.75" (29mm x 36mm x 19mm). Mounted on 1.5" diam. Wood disc.
Weight: n/a (mounted) 
FORMATION:
Vanadinite is a lead chlorovanadate mineral, a member of the apatite group, with a hardness of 3. It is very dense, and most often forms these lovely hexagonal crystals. Vanadinite is a secondary mineral, and generally develops in the alteration zone in massive hydrothermal replacement deposits. Associated minerals include galena, wulfenite, and barite. Goethite is an iron oxide mineral that is closely related to hematite. It may form any number of different growth habits, including botryoidal, needles, radiating, and stalactites.

HEALING PROPERTIES:
Vanadinite is believed to enhance meditation, sharpen mental clarity, and assist in the definition and pursuit of life goals. It is also associated with physical energy and vitality. Iron oxide minerals most often represent manifestation, grounding, and feminine earth energy.
----
Please contact us via email or by phone for more details, or to receive more angles or a video of this specimen. Thanks!