Tiger Eye Polished Point Golden Natural Gemstone in Sterling Silver Pendant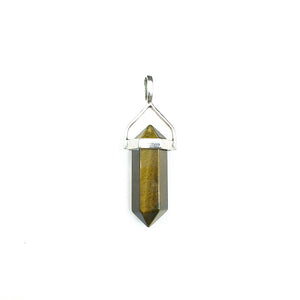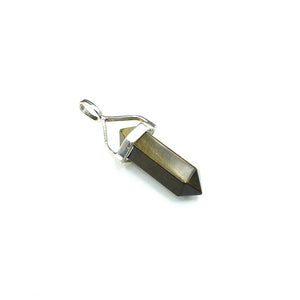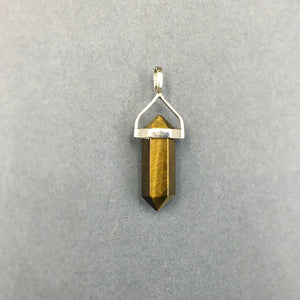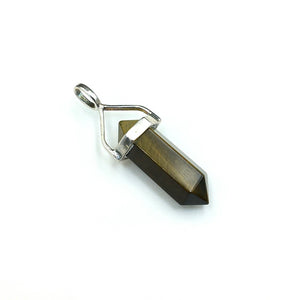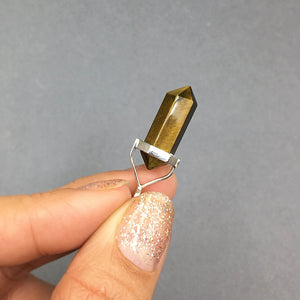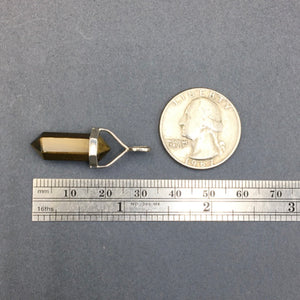 This is a small-sized point pendant--please check dimensions and evaluate scale photos carefully. This is a beautiful, natural Tiger Eye pendant set in sterling silver! Miniature in size but with a big personality, this simple Tiger eye point has some pale greenish hues from the original hawk's eye tones, wrapped in a simple sterling silver setting.  (All pendants are sold separately—you may purchase a chain in Sterling Silver Chains, and contact us to see more of our Tiger Eye Jewelry collection.)

Dimensions: 1.25" x 0.44" (31mm x 11mm)
----------

PHYSICAL: Tiger Eye is a golden mix of Quartz and the asbestos mineral Riebeckite. The gold color is a result of oxidation, and Tiger Eye forms in some of the oldest rock layers in the world. See recommended reading for more information.

HEALING: Manifestation, balance, physical strength and health, and willpower.
Chakra: Solar Plexus (3), Element: Earth.

Care for gemstones in sterling silver jewelry: 
As with all natural stones set in silver, these jewelry pieces should be removed when taking a shower, swimming, or entering a hot springs. Water (especially hot water) can damage natural materials and even cause settings to fail. This is especially true with gemstone rings!

*Though many gems and minerals have historical and cultural associations with healing properties, these items are sold for wear in jewelry, display, study, and collector interest only.