Tanzanite Violet Purple Raw Crystal Sterling Silver Stud Earrings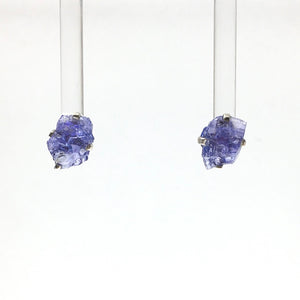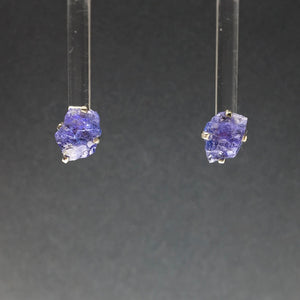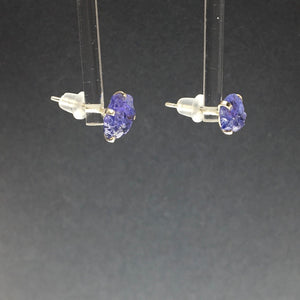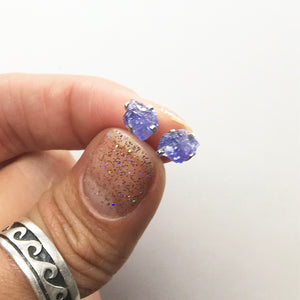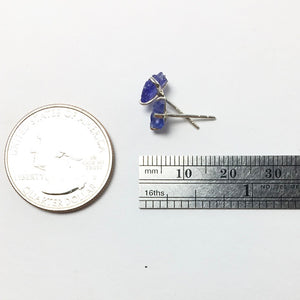 *Tanzanite--the primary birthstone for December*
This is a pair of very small raw crystal earrings--please read dimensions and examine scale photos carefully! Your item may vary slightly from the listed pictures, but will be the same stone, style, and approximate size. This is a pair of unique unpolished tanzanite crystal chunks, which are held in sterling silver prongs. The earrings feature unpolished and unshaped little chunks of violet tanzanite--they vary in shape, size, and color, with no two stones exactly alike. This is the charm of this style! The earrings are sold alone--they would look ideal as a set with anything else from our Tanzanite collection, many of which are not yet on the website. Contact us if you would like help putting a set together!
Dimensions: 0.31" x 0.25" (9mm x 7mm)
*Note: The prongs on this style can be delicate, so we recommend against wearing these studs while sleeping or doing physical activities.
-----------------------------------------------------------------------------------------------------------
Tanzanite
PHYSICAL: The purple variety of Zoisite—mined from one area in the world, in Tanzania. Highly prized for beauty and metaphysical properties. 
HEALING: Associated with spiritual growth, higher mind, linkage to the higher self. 
Care for gemstones in sterling silver jewelry: 
As with all natural stones set in silver, these jewelry pieces should be removed when taking a shower, swimming, or entering a hot springs. Water (especially hot water) can damage natural materials and even cause settings to fail. This is especially true with gemstone rings!

*Though many gems and minerals have historical and cultural associations with healing properties, these items are sold for wear in jewelry, display, study, and collector interest only.