Tanzanite #4 Purple Zoisite Thumbnail Specimen (Merelani Hills, Tanzania)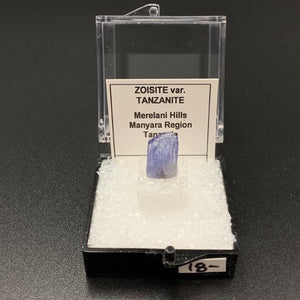 *This is a very small miniature, known as a thumbnail specimen. Please examine scale photo and consider dimensions carefully.* Thumbnail specimens are mounted in small display boxes known as perky boxes, and contain locality information. They are designed so that they are ready for display, or may be unmounted for any use including jewelry supply. An ideal and efficient tiny treasure, for any collection!
-----
Mineral Name: Tanzanite (Purple Zoisite variety)

Locality: Merelani Hills, Manyara Region, Tanzania.

Dimensions: 0.42" x 0.27" (11mm x 7mm)

Characteristics of this specimen: Tanzanite is a purple Zoisite variety, found only in Tanzania. Colors vary from palest lavender to deep violet, and tanzanite is highly pleochroic, so it may present colorless and brown shades from certain directions. Crystal quality ranges from massive, raw form to well-formed gem quality crystals.

Care Notes: Tanzanite is durable but should be kept out of prolonged sunlight.

-----
Healing Keywords: Tanzanite is associated with spiritual growth, linkage of the mind and higher self, and spirit guides.

-----
Please email us if you would like a video, or if you have more questions about this item.