Tabasco Geode #7 Thumbnail Specimen (Tabasco, Mexico)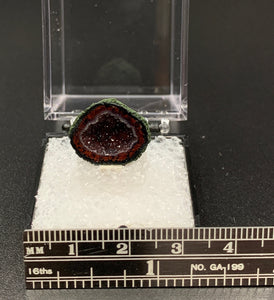 *This is a very small miniature, known as a thumbnail specimen. Please examine scale photo and consider dimensions carefully.* Thumbnail specimens are mounted in small display boxes known as perky boxes, and contain locality information. They are designed so that they are ready for display, or may be unmounted for any use including jewelry supply. An ideal and efficient tiny treasure, for any collection
—————
Mineral Name: Tabasco Geode half
Locality: 
Tabasco, Zacatecas, Mexico
Dimensions: 0.54" x 0.75" (14mm x 17mm)
Characteristics of this specimen: Small sparkly geode half with hints of red, green, black. 
Care Notes: 
-----
FORMATION: Tabasco geodes are mined near the town of Tabasco, near Zacatecas, Mexico. They are highly prized by collectors and jewelry artisans for their small size, and colorful, distinctive interiors. Like all geodes, they formed as a result of gas bubbles filling with mineralization, occurring within volcanic environments. 

HEALING KEYWORDS: Geodes are associated with grounding and balancing, harmonizing energy. They also have the properties associated with the minerals within. 
-----
Please email us if you would like a video, or if you have more questions about this item.