Sugilite #11 Thumbnail Specimen (The Wessels, South Africa)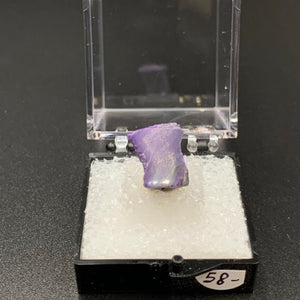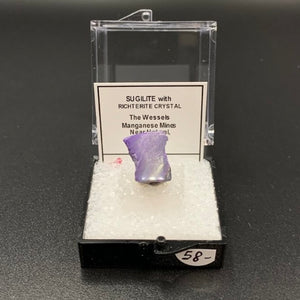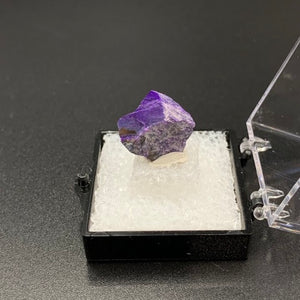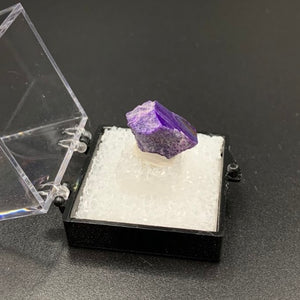 *This is a very small miniature, known as a thumbnail specimen. Please examine scale photo and consider dimensions carefully.* Thumbnail specimens are mounted in small display boxes known as perky boxes, and contain locality information. They are designed so that they are ready for display, or may be unmounted for any use including jewelry supply. An ideal and efficient tiny treasure, for any collection!
-----
Mineral Name: Sugilite

Locality: The Wessels Manganese Mines, Northern Cape, South Africa.

Dimensions: approx. 0.46" x 0.38" (12mm x 10mm)

Characteristics of this specimen:
This is a rare specimen for collectors and lovers of color! This is a miniature polished face specimen of sugilite, a rare manganese mineral from South Africa. The face of this miniature has been polished by our very own Tim Grasso. Lovers of Sugilite will recognize how desirable this specimen is--ultra saturated purple shades interwoven with ribbons of black manganese and sometimes areas of blue richterite. This South African stunner will hold pride of place in your specimen, healing, or jewelry supply collection!

Sugilite is found deep in the manganese mines of South Africa. It has never been an abundant mineral, but sugilite of any quality is becoming much less abundant in the past few years. It grows in association with manganese and other metallic minerals, as well as rare blue richterite.
-----
Healing Keywords: Sugilite is connected to dreams, purification, and inner work. It has a deep connection to intuition, inner vision, and shamanic journeys.

-----
Please email us if you would like a video, or if you have more questions about this item.