Staurolite #1 Thumbnail Specimen (Kola Peninsula, Russia)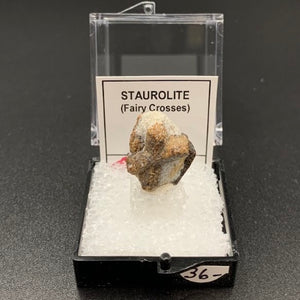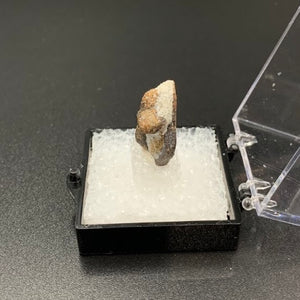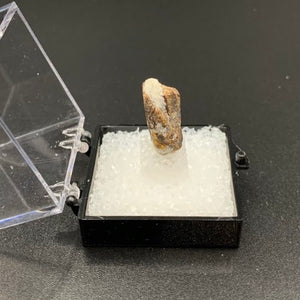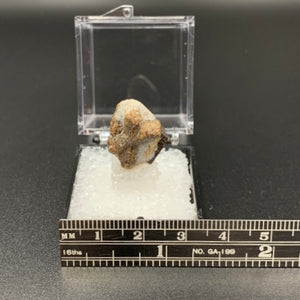 *This is a very small miniature, known as a thumbnail specimen. Please examine scale photo and consider dimensions carefully.* Thumbnail specimens are mounted in small display boxes known as perky boxes, and contain locality information. They are designed so that they are ready for display, or may be unmounted for any use including jewelry supply. An ideal and efficient tiny treasure, for any collection!
-----
Mineral Name: Staurolite

Locality: Pestsovye Keivy, Keivy Mountains, Kola Peninsula, Murmanskaja Oblast', Northern Region, Russia.

Dimensions: 0.69" x 0.58" (18mm x 15mm)

Characteristics of this specimen:
This is a sweet and truly unique specimen, with an attractive combination of minerals! Staurolite is known for its natural cruciform habit, nicknamed "fairy crosses" for its attractive twinning. The dark crystals have grown in a sparkling white micaceous matrix, giving it attractive contrast. This specimen has a graphic and aesthetic appearance--I love the sculptural lines and eye-catching edges! Perfect for the healing or specimen collector in your life.

FORMATION: Staurolite is a nesosilicate mineral that forms only in metamorphic rocks. It often, but not always, forms in these characteristic cruciform penetration twins.

Care Notes:
-----
Healing Keywords: Fairy crosses are associated with connection to the natural world, and spiritual beings beyond the veil. Staurolite is also associated with calming, balancing, and grounding energy. At least three US presidents are said to have carried staurolite for good luck: Wilson, Harding, and Theodore Roosevelt, who wore one mounted as a watch charm. 

-----
Please email us if you would like a video, or if you have more questions about this item.