Sierra Nevada Turquoise #1 Natural Stone Sterling Silver Pendant on 18" Sterling Silver Chain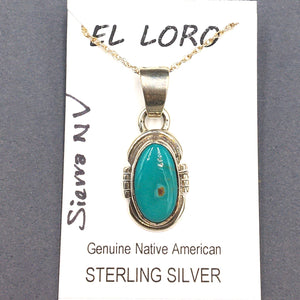 This is a fantastic mini-size sterling silver Sonoran Turquoise pendant, on a thin 18" sterling silver chain! It combines blue-green shades and natural features into one bewitching stone. This is native american work by a Navajo artist, and is set in sterling silver. The chain is included and sold as a set with this pendant--if you need a substitution on style and length, contact us and we can substitute another chain from our Sterling Silver Chain section.
The Sierra Nevada Turquoise mine, discovered as the Sky Cloud Mine in 2014, is located in the Candalaria Hills near Tonopah, Nevada.
Dimensions: contact us
Keywords: Wholeness, spiritual connection and expansion, and connection to nature.
Care for gemstones in sterling silver jewelry: 
As with all natural stones set in silver, these jewelry pieces should be removed when taking a shower, swimming, or entering a hot springs. Water (especially hot water) can damage natural materials and even cause settings to fail. This is especially true with gemstone rings!

*Though many gems and minerals have historical and cultural associations with healing properties, these items are sold for wear in jewelry, display, study, and collector interest only.