Ruby and Zoisite Natural Cabochon Cut Gemstone Sterling Silver Pendant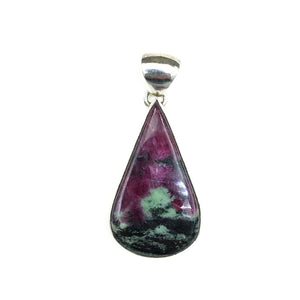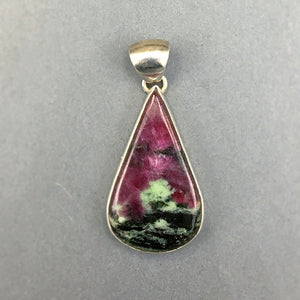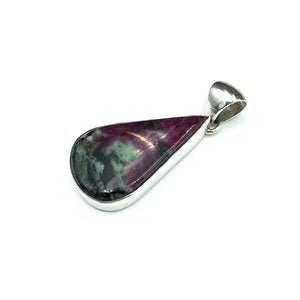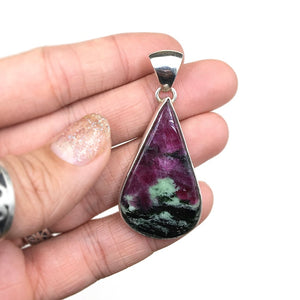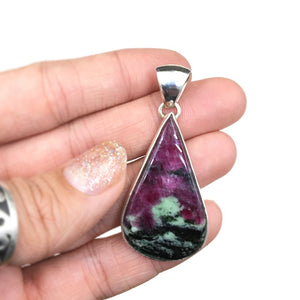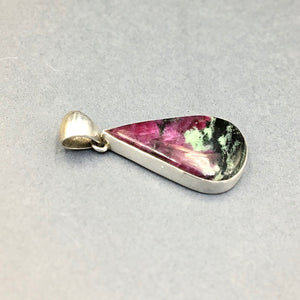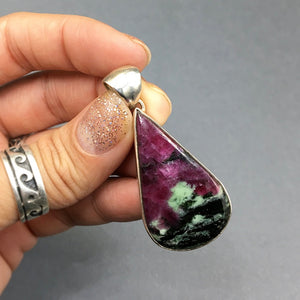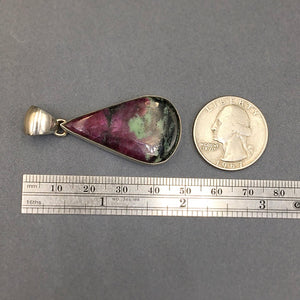 Ruby and Zoisite make a statement in this cabochon-cut pendant! The combination of the two minerals naturally intergrown, with their high-contrast colors, makes this pendant really stand out. Please examine dimensions and scale photo carefully, this pendant is on the large side. Natural pink-red ruby, sage green Zoisite, and black hornblende have grown together here--this combination is sometimes called anyolite. This graphic pendant would look ideal on one of our sterling silver chains, or on one of our signature faceted strands—find strands in Necklaces & Sets. Contact us for help putting a set together!

Dimensions: 2.00" x 0.88" (51mm x 23mm)
---------------------------
Ruby & Zoisite
PHYSICAL: Ruby is the red Corundum variety—it can form in association with unique stones, in this case the green Zoisite variety. Black hornblende inclusions may occur. This combination commonly occurs in India and Tanzania. 
HEALING: Ruby is connected with physical health and courage, while green Zoisite is associated with opening the heart chakra. 
Care for gemstones in sterling silver jewelry: 
As with all natural stones set in silver, these jewelry pieces should be removed when taking a shower, swimming, or entering a hot springs. Water (especially hot water) can damage natural materials and even cause settings to fail. This is especially true with gemstone rings!

*Though many gems and minerals have historical and cultural associations with healing properties, these items are sold for wear in jewelry, display, study, and collector interest only.