Rose Quartz Pink Miniature Crystal Point Sterling Silver Pendant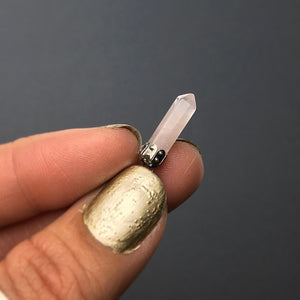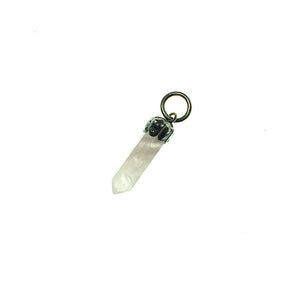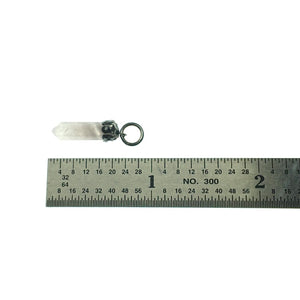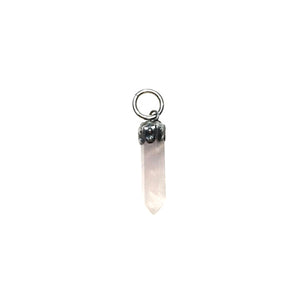 *Rose Quartz--the alternate birthstone for January*
This is a very small miniature pendant--please read dimensions and examine scale photos carefully! This is a unique polished rose quartz crystal point pendant, which is capped in sterling silver with a little design. The pendant features a polished and shaped cut point shape, with a tiny sterling cap and ring. The pendant is sold alone--it would look ideal on a sterling silver chain, or one of our signature faceted strands. Any chain you would like to pair it with can be purchased separately in the Sterling Silver Chain section, while our faceted strands may be found in the Necklaces & Sets section. Contact us if you would like help putting a set together!
Dimensions: 0.88" x 0.19" (23mm x 5mm)
-----------------------------------------------------------------------------------------------------------
PHYSICAL: Quartz is the second most abundant mineral in the earth's crust--it is pure silicon dioxide, and can take many forms. Rose quartz is a pink variety which gets its color from rutile inclusions--though it rarely crystallizes, crystal points such as this one are often shaped from this material. 

HEALING: Rose quartz is associated with love, self-love, and gentleness, as well as emotional healing.

Care for gemstones in sterling silver jewelry: 
As with all natural stones set in silver, these jewelry pieces should be removed when taking a shower, swimming, or entering a hot springs. Water (especially hot water) can damage natural materials and even cause settings to fail. This is especially true with gemstone rings!

*Though many gems and minerals have historical and cultural associations with healing properties, these items are sold for wear in jewelry, display, study, and collector interest only.