Rose Quartz (1) Raw Chunk-A Grade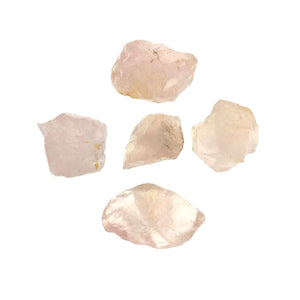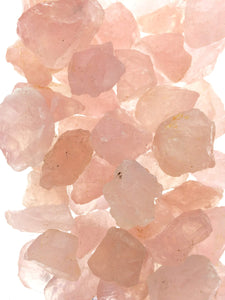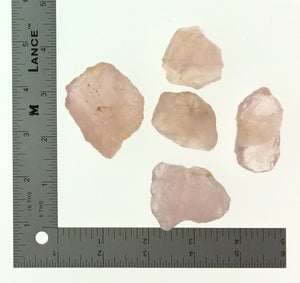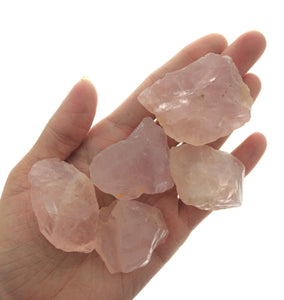 This is one unpolished, natural chunk of natural rose quartz, sourced from either Brazil or Madagascar. It is A Grade--the darker, and more saturated pink color of the two grades we have available in the shop. The chunk is characterized by rough, unshaped edges, and pink color which varies in shade from one piece to another. This small size range of this specimen is the perfect size for holding in the hand, placing in a pillowcase, using in a grid, or wearing in a pouch! 
*This is a bulk listing--please read dimension range and description carefully!*
To be Input: Dimensions vary between: 0.75" x 0.75" x 0.75", to 1.00" x 1.00" x 1.00"
One single raw chunk will be chosen intuitively from our available stock when you purchase this listing. Source for this mineral may be either Brazil or Madagascar, depending on what we have available. Each stone will have its own unique attributes, and as an unpolished specimen, may display natural features such as chips, fractures, and color zones. Scale photos represent an average size range only. Different color grades and size ranges may be available in this mineral, so please consider the options and descriptions carefully before making a choice.
------------------------------------------------------------------------------------------------------------
PHYSICAL: Rose Quartz is the natural pink Quartz variety: it gets its pink color from micro inclusions of the titanium mineral rutile. It forms in a massive habit, and should not be confused with crystallized pink quartz. Rose quartz can be found around the world, but the most abundant deposits for this mineral are Brazil and Madagascar.
METAPHYSICAL/CULTURAL: Rose Quartz is associated with love, self-love, and bringing the energy of love into one's environment. It is connected to the element of water, and the 4th (Heart) chakra.
------------------------------------------------------------------------------------------------------------

*Though many gems and minerals have historical and cultural associations with healing properties, these items are sold for display, study, and collector interest only. Gemstone properties are not intended to diagnose or cure any disease or disorder, and should not be used as a substitution for medical care. We encourage you to do your own research, exploration, and draw your own conclusions on the topic of healing properties and cultural associations!*