Rhodochrosite Soft Pink Stalactite Slice in Sterling Silver Dangle Earrings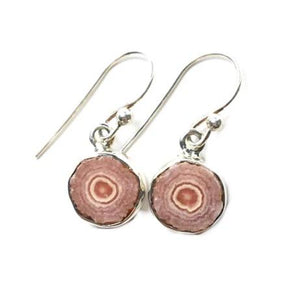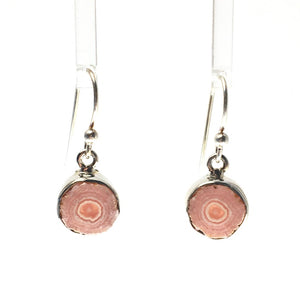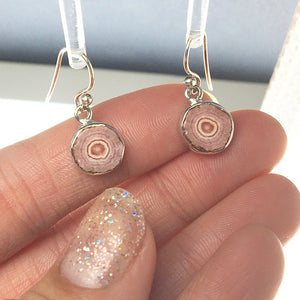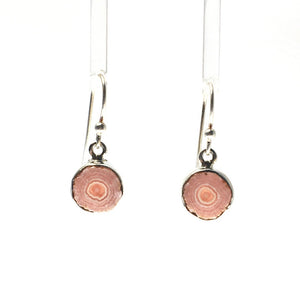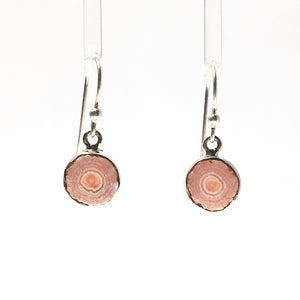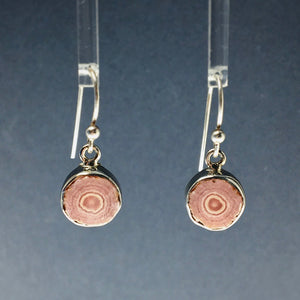 This is a very pretty small size pair of sterling silver Rhodochrosite stalactite earrings! Also, we have an extensive collection of Rhodochrosite earrings, bracelets, rings, and beaded strands, many that are not listed here. Contact us if you would like help putting a set together!
Rhodochrosite is a unique manganese carbonate mineral, and is our state mineral here in Colorado. This pink mineral can form rhombohedral crystals, banded stalactite sections, and massive layers; Colorado's Sweet Home Mine in Alma is considered the source of the world's best Rhodochrosite specimens, including the famous Alma King. Rhodochrosite can also be found elsewhere in the world, including Argentina (where the stone in this pair of earrings is sourced from.)
This particular pair of earrings is a pretty rosy pink shade, which displays alternating layers of white banding and mini crystal inclusions along the edge. The pendant features a flattering round stalactite shape in a simple sterling silver setting. It is a diminutive yet brightly colored piece, and would make a lovely addition to your jewelry collection!

Locality: Argentina
Dimensions: 0.92" x 0.50" (24mm x 13mm)

-----------------------------------------------------------------------------------------------------------
PHYSICAL: Rhodochrosite is a manganese carbonate mineral, which forms a series with Pink Mangano Calcite. Although the most famous habit is either the rhombohedral form from Colorado or the scalenohedral habit found in South Africa, banded layers and stalactite growths from Argentina are some of the most widely available specimens. Rhodochrosite should be kept out of water, particularly if set in silver, as the water can affect durability in the stone itself and also in the setting.
HEALING: Rhodochrosite is associated with self-love, identification of hidden talents and gifts, and love in one's environment. It is believed to help support the heart chakra.
Care for gemstones in sterling silver jewelry: 
As with all natural stones set in silver, these jewelry pieces should be removed when taking a shower, swimming, or entering a hot springs. Water (especially hot water) can damage natural materials and even cause settings to fail. This is especially true with gemstone rings!

*Though many gems and minerals have historical and cultural associations with healing properties, these items are sold for wear in jewelry, display, study, and collector interest only.