Pyromorphite #2 Thumbnail Specimen (Gongcheng Co, China)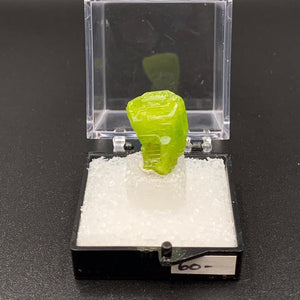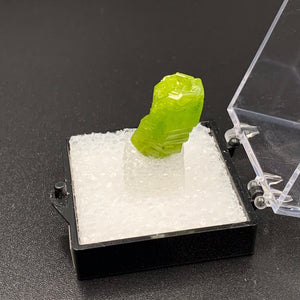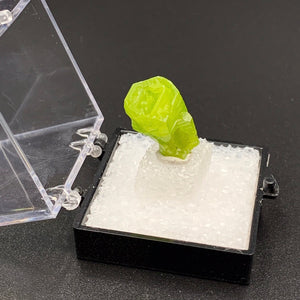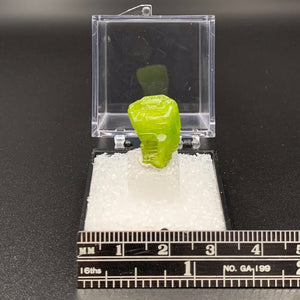 *This is a very small miniature, known as a thumbnail specimen. Please examine scale photo and consider dimensions carefully.* Thumbnail specimens are mounted in small display boxes known as perky boxes, and contain locality information. They are designed so that they are ready for display, or may be unmounted for any use including jewelry supply. An ideal and efficient tiny treasure, for any collection!
-----
Mineral Name: Pyromorphite

Locality: Gongcheng Co., Gulin Prefect, Guangx Zhuang A.R., China.

Dimensions: 0.58" x 0.50" (15mm x 13mm)

Characteristics of this specimen: Pyromorphite from China is a characteristically bright green, vibrant shade. It forms different shapes including hoppered crystals. This single crystal is hoppered and aesthetically grown, in an elongated and distinctive shape.

Formation: Pyromorphite is a rare lead phosphate mineral, which forms in lead ore mines. At one time, these minerals were worth their weight in platinum!

Care Notes: As a lead mineral please wash hands after handling, and never ingest or inhale particles.

-----
Healing Keywords: Pyromorphite is associated with vigor, vitality, and personal strength. 

-----
Please email us if you would like a video, or if you have more questions about this item.