Pyrite on Fluorite, Quartz #1 Thumbnail Specimen (Yaogangxian Mine, Hunan, China)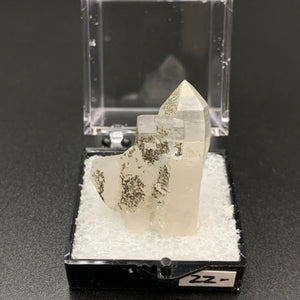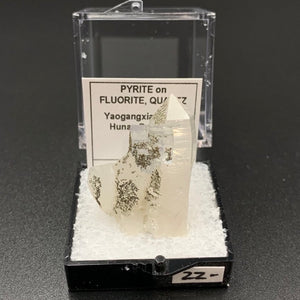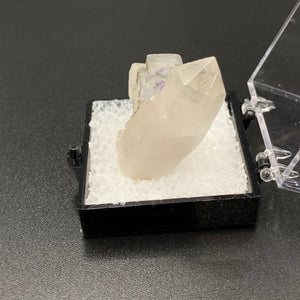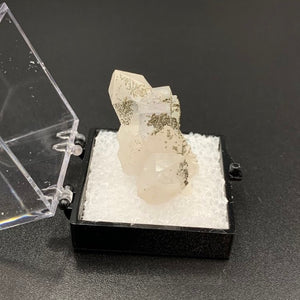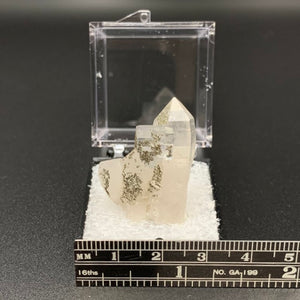 *This is a very small miniature, known as a thumbnail specimen. Please examine scale photo and consider dimensions carefully.* Thumbnail specimens are mounted in small display boxes known as perky boxes, and contain locality information. They are designed so that they are ready for display, or may be unmounted for any use including jewelry supply. An ideal and efficient tiny treasure, for any collection!
-----
Mineral Name: Pyrite on Fluorite cube and Quartz Crystal cluster

Locality: Yaogangxian Mine, Yaogangxian W-Sn ore field, Yizghang Co., Chenzhou, Hunan, China

Dimensions: 1.15" x 0.88" (30mm x 23mm)

Characteristics of this specimen: Pyrite sparkling tiny crystals have accented a well-formed cluster of clear quartz crystals, with a perfect purple shaded fluorite cube. A unique composition and combination of minerals from a classic Chinese mineral locality.

Formation:
Quartz is the second most abundant silicate mineral. Fluorite is a halide mineral with forms in the isometric system, and forms shapes such as cubes, octahedra, and dodecahedrons. Pyrite is an important iron ore. It is often called fool's gold, for its superficial similarities to gold.

Care Notes:

-----
Healing Keywords: Quartz is associated with programmability and healing. Fluorite is associated with mental focus, acuity, and clarity. Pyrite is associated with shielding, vitality, and masculine energy.

-----
Please email us if you would like a video, or if you have more questions about this item.