Prehnite #1 Thumbnail Specimen (Merelani Hills, Tanzania)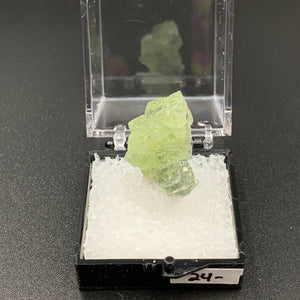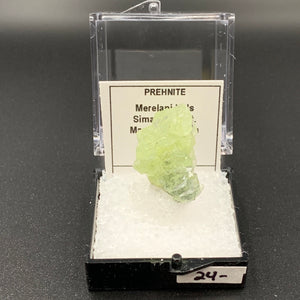 *This is a very small miniature, known as a thumbnail specimen. Please examine scale photo and consider dimensions carefully.* Thumbnail specimens are mounted in small display boxes known as perky boxes, and contain locality information. They are designed so that they are ready for display, or may be unmounted for any use including jewelry supply. An ideal and efficient tiny treasure, for any collection!
-----
Mineral Name: Prehnite

Locality: Merelani Hills, Simanjiro Dist., Tanzania.

Dimensions: 0.73" x 0.54" (19mm x 14mm)

Characteristics of this specimen:
FORMATION:
Prehnite is an inosilicate mineral, which forms most frequently in volcanic environments, often growing in association with zeolite minerals. Although orthorhombic, prehnite is most often seen forming variations of the botryoidal (globular) habit.

Care Notes:
-----
Healing Keywords: Prehnite is often associated with dreams--it is also said to enhance deep inner peace and serenity, and to support development of healthy patterns and connections.

-----
Please email us if you would like a video, or if you have more questions about this item.