Prasiolite Green Amethyst Faceted Crystal Sterling Silver Dangle Earrings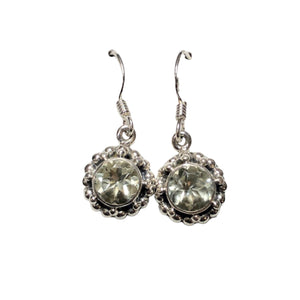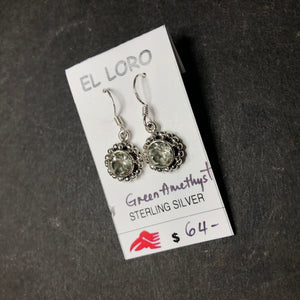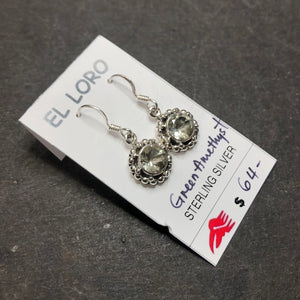 This is a pair of small faceted earrings--please read dimensions and examine scale photos carefully! This is a pair of unique polished Prasiolite, also known as green amethyst, faceted gems, which are surrounded by a beautiful sterling silver setting. The earrings have a light, palest leek green shade, which is characteristic of prasiolite. The earrings are sold alone--they would look ideal as a set from our Prasiolite collection, many of which are not yet on the website. Contact us if you would like help putting a set together!
Dimensions:
1.13" long x 0.50" wide
---------------------------------------------------
PHYSICAL: Quartz is the second most abundant mineral in the earth's crust--it is pure silicon dioxide, and can take many forms. Green Amethyst may be natural or treated, and is known as Prasiolite (named for its leek green shade). 
HEALING: Prasiolite is associated with connection to nature, and emotional health. 
Care for gemstones in sterling silver jewelry: 
As with all natural stones set in silver, these jewelry pieces should be removed when taking a shower, swimming, or entering a hot springs. Water (especially hot water) can damage natural materials and even cause settings to fail. This is especially true with gemstone rings!

*Though many gems and minerals have historical and cultural associations with healing properties, these items are sold for wear in jewelry, display, study, and collector interest only.