Orpiment #3 Special Care Thumbnail Specimen (Senduchen, Russia)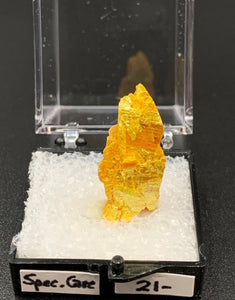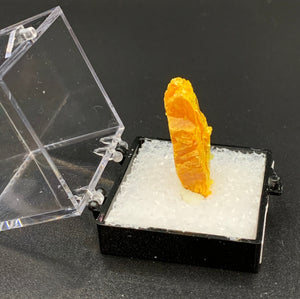 *This is a very small miniature, known as a thumbnail specimen. Please examine scale photo and consider dimensions carefully.* Thumbnail specimens are mounted in small display boxes known as perky boxes, and contain locality information. They are designed so that they are ready for display, or may be unmounted for any use including jewelry supply. An ideal and efficient tiny treasure, for any collection
—————
Mineral Name: Orpiment 
Locality: 
Senduchen, Bulun District, Polar Yakutia, Sakha Republic, Russia.
Dimensions: 0.98" x 0.47" (25mm x 12mm)
Characteristics of this specimen: Bright, vibrant yellow shades of a mica-like mineral. 
Care Notes: see below
*NOTE 1: Orpiment is PHOTO-SENSITIVE--this means that it is becomes unstable with prolonged exposure to light, breaking down into a powder. Due to its instability, orpiment specimens must be stored away from direct light. Periodic light exposure, for example looking at it in the light, will not affect the mineral, but prolonged periods of exposure will cause it to become unstable.
*NOTE 2: Orpiment is an arsenic sulfide mineral, and contains a significant amount of arsenic--arsenic is poisonous, and orpiment is itself TOXIC. Please wash your hands after handling, and limit exposure to light as the powdery form of orpiment is easier to come into contact with. See Note 1.
Healing: Though it must be handled with care due to its poisonous components, orpiment is believed to enhance intellectual clarity and personal power. It is thought to clear the mind and improve reasoning and positive emotions.

-----
Please email us if you would like a video, or if you have more questions about this item.