Ocean Jasper Orbicular Oval Gemstone on Sterling Silver Pendant Tim Grasso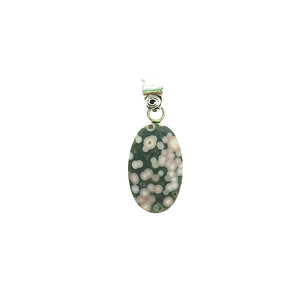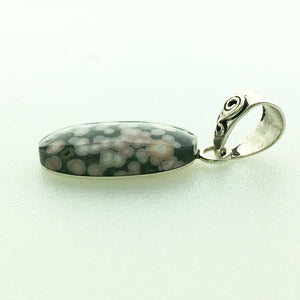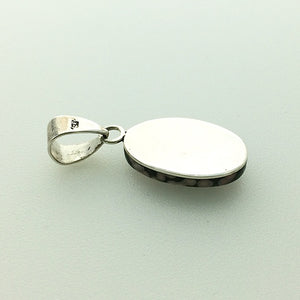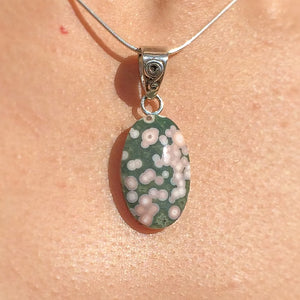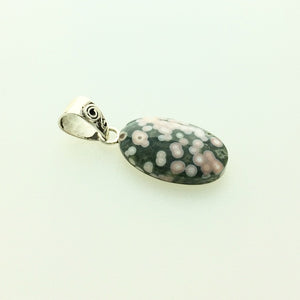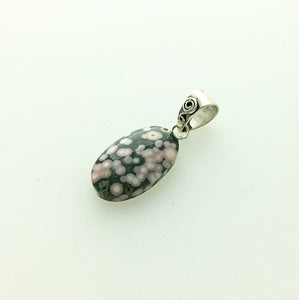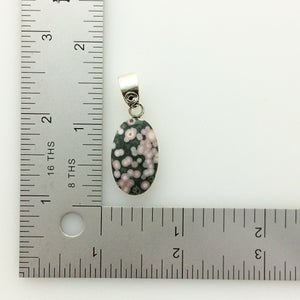 This is a small oval-shaped sterling silver Ocean Jasper pendant! The pendant is sold alone, and any chain you would like to pair it with can be purchased separately in the Sterling Silver Chain section. Also, we have other Ocean Jasper pendants, earrings, bracelets, rings, and beaded strands, many that are not listed here. Contact us if you would like help putting a set together!
Ocean Jasper is an orbicular jasper and agate material found in Madagascar. The stone has a recognizable pattern which is often composed or circular or semi-circular orbs, and often features shades like green, pink, yellow, and white. This particular pendant is an oval shaped stone displaying a soft mossy green background with pink and white orbs across it. It has been set in a contemporary open setting, which lays the stone on a back layer of sterling silver but keeps the edges and face of the stone open. The jeweler's epoxy use to attach the stone to the silver back has a high level of durability and is baked onto the stone, making it extremely durable. This pendant is made by artist Tim Grasso, our in-house lapidary and wirewrap artist.

Locality: Madagascar
Dimensions: 1.50" x 0.63" x 0.19" (38mm x 16mm x 5mm)
-----------------------------------------------------------------------------------------------------------
PHYSICAL: Ocean Jasper is an orbicular material found only on the island of Madagascar. Although it is called a jasper, and quite often may be composed of all or mostly jasper, top grades of ocean jasper can also contain a significant amount of agate as well. The orbicular pattern of Ocean Jasper is distinctive, and should not be confused with other orbicular jaspers, nor with patterned rhyolites.
HEALING: Ocean Jasper is associated with stress release and enjoyment of life. Like all Jaspers, it is also considered to be a nurturing and grounding mineral.
Care for gemstones in sterling silver jewelry: 
As with all natural stones set in silver, these jewelry pieces should be removed when taking a shower, swimming, or entering a hot springs. Water (especially hot water) can damage natural materials and even cause settings to fail. This is especially true with gemstone rings!

*Though many gems and minerals have historical and cultural associations with healing properties, these items are sold for wear in jewelry, display, study, and collector interest only.