Native Copper Dendritic Cluster Mounted Miniature Mineral Specimen (Chino Mine, New Mexico, USA)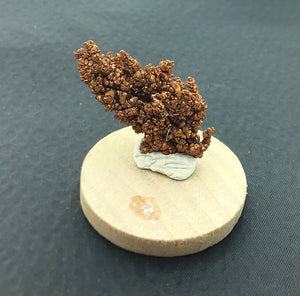 SKU: MIN-CLU-USA-COP63-001
This is a beautiful branching specimen of native copper, from a venerable American locality. This particular specimen features a unique dendritic branching shape, giving it a delicate and organic appearance. It has been mounted on a 1.50" wooden disc for display, but can unmounted and used for display or healing. It would make a handsome addition to any mineral collection!
Chino Mine, also known as Santa Rita Mine, is the third oldest active open pit copper mining operation, after the Bingham Canyon Mine and Chuquicamata. It is an area in which native Apache Indians, Spaniards, Mexicans, and Americans have all obtained specimens over the centuries. Open pit mining began in 1907-1910, and continues to this day.
------
Locality: Chino Mine, Silver City, New Mexico.
Dimensions: 1.38" x 0.63" x 1.25" (36mm x 16mm x 31mm). Mounted on 1.50" wood disc.
Weight: N/a (mounted)
-----------------------------------------------------------------------------------------------------
FORMATION: Copper is one of the few elements to occur as a native mineral. It forms in the isometric system, so it may rarely form cubic and octahedral crystals. It is quite dense and also quite soft--2.5-3 on Moh's hardness scale. The Keweenaw copper deposits in Upper Peninsula Michigan are the largest found anywhere in the world.
HEALING: Copper is widely renowned for its ability to conduct electricity and heat, and healers believe that this conductivity extends to the spirit as well. It is believed to conduct energy from one person to another, and is often used in crystal grids. Copper is also believed to help ease the symptoms of arthritis and cramps, and ease tension in the nerves and muscles.
----
Please contact us via email or by phone for more details, or to receive more angles or a video of this specimen. Thanks!