Morganite Faceted Gemstone Bead Sterling Silver Bracelet by Josephine Grasso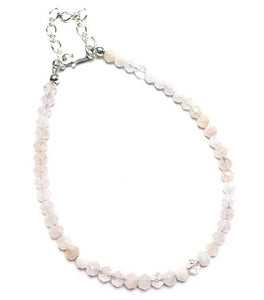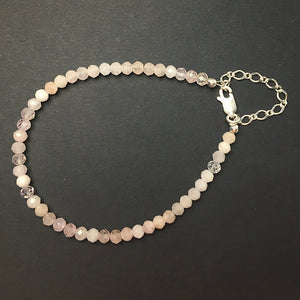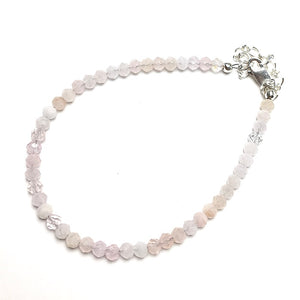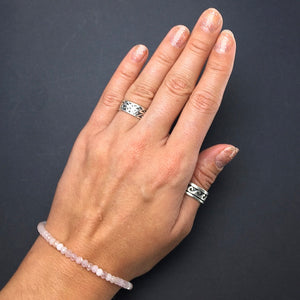 This is a beautiful pale pink morganite faceted bracelet! It is one of our signature faceted collection, which are made in-house by jewelry artist Josephine Grasso. This icy pink faceted beaded bracelet displays a little shine from the faceting, and also features a security chain (see note below). Also, we have an extensive collection of Morganite earrings, bracelets, rings, and beaded strands, many that are not listed here. Contact us if you would like help putting a set together!
Dimensions: 4mm faceted, 7-1/4" + 2" adjustable security chain

*Faceted Collection--our beaded bracelets and necklace strands are beaded by our in-house jewelry artist Josephine Grasso. They are strung on 49-strand American tiger tail (steel core beading wire with nylon outer), with sterling silver findings. Contact us if you are in search of a custom size or stone, and we will make it if possible.
*Security Chain: our faceted bracelets feature a unique sterling silver security chain which remains attached at all times. To wear, slide over hand and secure clasp to the chain itself, at the length of your choice. If the clasp should break, the chain will prevent the bracelet beads from coming apart.
-----------------------------------------------------------------------------------------------------------
Morganite
PHYSICAL: The pink Beryl variety, a group which includes Emerald, Aquamarine, Heliodor, and rare Red Beryl. 
HEALING: Morganite is associated with Divine Love, compassion, and is believed to help work with emotional trauma. El:Water. Chakra: Heart (4).
Care for gemstones in sterling silver jewelry: 
As with all natural stones set in silver, these jewelry pieces should be removed when taking a shower, swimming, or entering a hot springs. Water (especially hot water) can damage natural materials and even cause settings to fail. This is especially true with gemstone rings!

*Though many gems and minerals have historical and cultural associations with healing properties, these items are sold for wear in jewelry, display, study, and collector interest only.