Moonstone Rainbow Triangle Drop Sterling Silver Dangle Earrings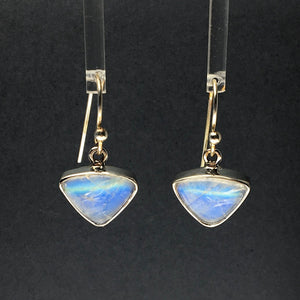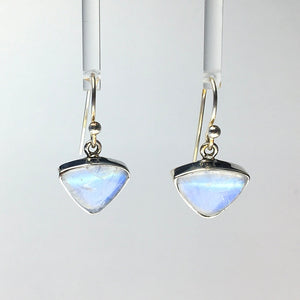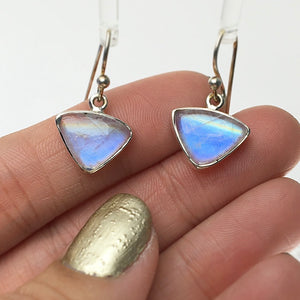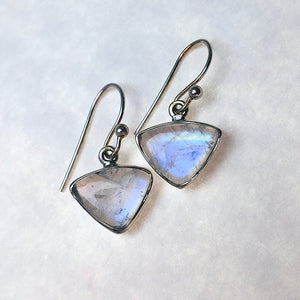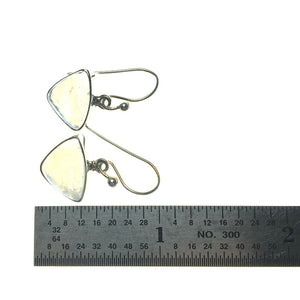 *Moonstone--the alternate birthstone for June*
This is a pair of sterling silver dangle earrings--please check dimensions and evaluate scale photos. This is a charming pair of upside down triangle shaped moonstone cabochon cut stones, surrounded by a simple sterling silver setting! They are simple and chic, and would flatter any style. The earrings are sold alone--they would look ideal matched to anything in our Moonstone collection (much of which is not yet listed on the website). Contact us if you would like help putting a set together!
Dimensions: 1.00" long x 0.50" wide (26mm x 13mm)
-----------------------------------------------------------------------------------------------------------
PHYSICAL: Moonstone is a member of the feldspar group, and may belong to more than one variety of feldspar (orthoclase and oligoclase, and may be a mix of both.) Adularia Moonstone displays the play of light known as adularescence, but other varieties of moonstone do not, or may display a partial play of color or sheen.

HEALING: Moonstone is connected to divine feminine energy, and is associated with intuition and insight. It is also said that moonstones protect the wearer during journeys, particularly if the wearer is of the female persuasion.
Care for gemstones in sterling silver jewelry: 
As with all natural stones set in silver, these jewelry pieces should be removed when taking a shower, swimming, or entering a hot springs. Water (especially hot water) can damage natural materials and even cause settings to fail. This is especially true with gemstone rings!

*Though many gems and minerals have historical and cultural associations with healing properties, these items are sold for wear in jewelry, display, study, and collector interest only.