Moonstone Adularia Rainbow Gemstone Sterling Silver Bracelet by Josephine Grasso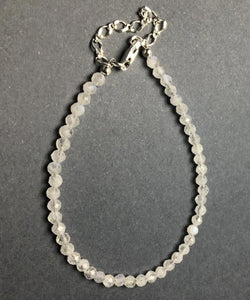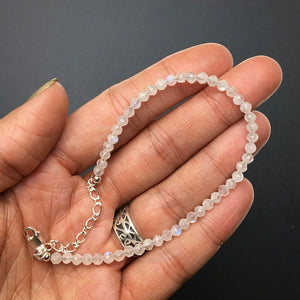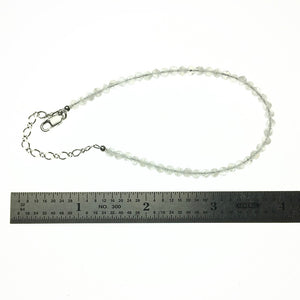 *Moonstone--the alternate birthstone for June*
This is a beautiful rainbow moonstone faceted bracelet! It is one of our signature faceted collection, which are made in-house by jewelry artist Josephine Grasso. This pure white faceted beaded bracelet displays subtle blue flashes, and also features a security chain (see note below). Also, we have an extensive collection of Moonstone earrings, bracelets, rings, and beaded strands, many that are not listed here. Contact us if you would like help putting a set together!
Locality: India
Dimensions: 3mm beads, 7-1/4" + 2" adjustable chain

*Faceted Collection--our faceted and round beaded bracelets and necklace strands are beaded by our in-house jewelry artist Josephine Grasso. They are strung on 49-strand American tiger tail (steel core beading wire with nylon outer), with sterling silver findings. Contact us if you are in search of a custom size or stone.
*Security Chain: our faceted bracelets feature a unique sterling silver security chain which remains attached at all times. To wear, slide over hand and secure clasp to the chain itself, at the length of your choice. If the clasp should break, the chain will prevent the bracelet beads from coming apart.
-----------------------------------------------------------------------------------------------------------
PHYSICAL: Moonstone is a member of the feldspar group, and may belong to more than one variety of feldspar (orthoclase and oligoclase, and may be a mix of both.) Adularia Moonstone displays the play of light known as adularescence, but other varieties of moonstone do not, or may display a partial play of color or sheen.
HEALING: Moonstone is connected to divine feminine energy, and is associated with intuition and insight. It is also said that moonstones protect the wearer during journeys, particularly if the wearer is of the female persuasion.
Care for gemstones in sterling silver jewelry: 
As with all natural stones set in silver, these jewelry pieces should be removed when taking a shower, swimming, or entering a hot springs. Water (especially hot water) can damage natural materials and even cause settings to fail. This is especially true with gemstone rings!

*Though many gems and minerals have historical and cultural associations with healing properties, these items are sold for wear in jewelry, display, study, and collector interest only.