Meteorite Campo del Cielo Raw Rough Cut Gemstone Sterling Silver Pendant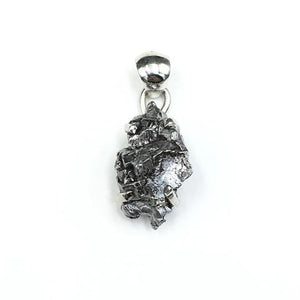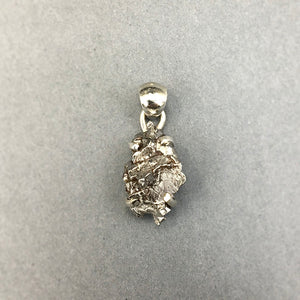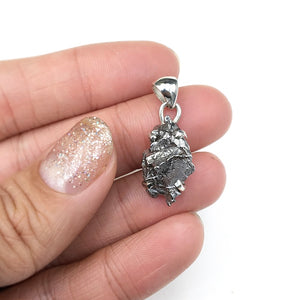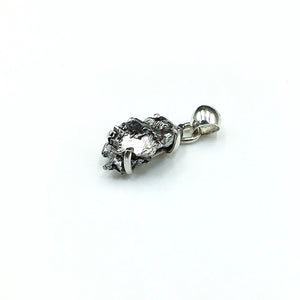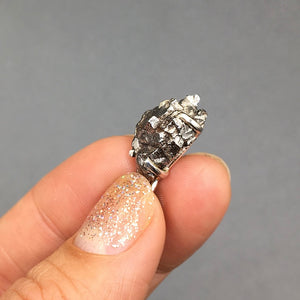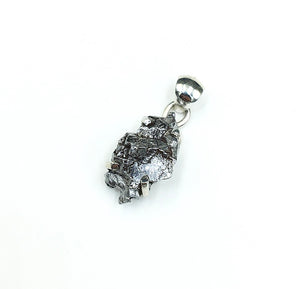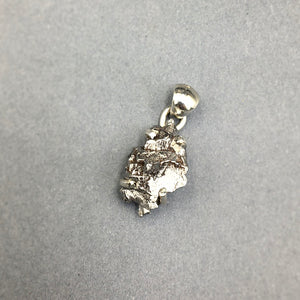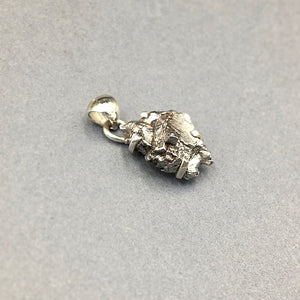 Natural Nickel-Iron meteorite makes a statement in this rough cut pendant! The weight, gunmetal shade, and raw texture makes this pendant really stand out. Please examine dimensions and scale photo carefully. Campo del Cielo is one of the best known metallic meteorites on earth, and it's small sized fragments make it ideal for jewelry. This pendant would look ideal on one of our sterling silver chains, or on one of our signature faceted strands—find strands in Necklaces & Sets. Contact us for help putting a set together!

Campo del Cielo is a strew field near Chaco, Argentina, that has yielded 3 of the largest 4 meteorites on earth, as well as thousands of smaller fragments. The meteorite that fell approximately 15,000 years ago was known to natives in the area, before being "discovered" by conquistadors. 
Dimensions: 1.00" x 0.44" (26mm x 11mm)
---------------------------
Meteorite 
PHYSICAL: Nickel-iron meteorites are made of the material that composes planetesimal cores--the cores of differentiated asteroids, often. They are younger and more rare than their stony (chondrite) counterparts. Nickel-iron meteorites naturally attract magnets, and may display growth patterns or contain olivine windows (pallasite type).
HEALING: Meteorites are considered lucky symbols of the kundalini channel, and connection to the universe. 
Care for gemstones in sterling silver jewelry: 
As with all natural stones set in silver, these jewelry pieces should be removed when taking a shower, swimming, or entering a hot springs. Water (especially hot water) can damage natural materials and even cause settings to fail. This is especially true with gemstone rings!

*Though many gems and minerals have historical and cultural associations with healing properties, these items are sold for wear in jewelry, display, study, and collector interest only.