Lavender Quartz (1) Star Tumbled Stone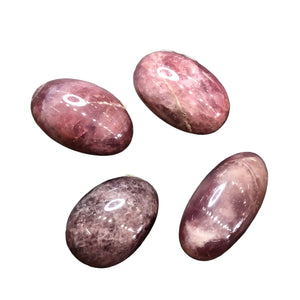 This is one oblong tumbled piece of Lavender Quartz, a softly shaded lilac type of Rose Quartz—it has been tumbled smooth and is polished on all sides, making it the perfect size for a pocket, purse, pillow, or palm. These pieces of quartz are asterated, or Star Stones as well; they are naturally formed in such a way that they can reflect light rays in a single rayed or star-shaped way. Pink and purple stones are the perfect gift for Valentine's Day or any day of the week! These stones would also make a perfect addition to a crystal grid.
One piece will be intuitively chosen from our selection of available tumbled stones. Sizes are around 1-1.5", but will vary, and colors will vary as well, as will inclusions and surface features. Polished shapes may have a matte or shiny polished surface, and natural inclusions may still remain; unless listed in description, stones are completely natural and untreated. 
-----------------------------------------------------------------------
PHYSICAL: Lavender Quartz is a type of Rose Quartz, which has extra manganese inclusions. Rose Quartz is the natural pink Quartz variety: it gets its pink color from micro inclusions of the titanium mineral rutile. It forms in a massive habit, and should not be confused with crystallized pink quartz. Rose and Lavender rose quartz can be found around the world, but the most abundant deposits for this mineral are Brazil and Madagascar.
METAPHYSICAL/CULTURAL: Rose Quartz is associated with love, self-love, and bringing the energy of love into one's environment. It is connected to the element of water, and the 4th (Heart) chakra.
 *Though many gems and minerals have historical and cultural associations with healing properties, these items are sold for display, study, and collector interest only. We encourage you to do research and draw your own conclusions on this topic!