Labradorite Faceted Contemporary Multistone Sterling Silver Necklace
SALE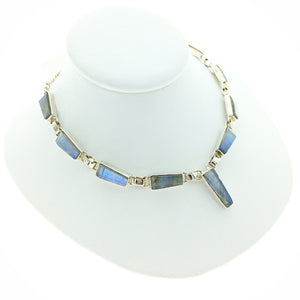 SALE
SALE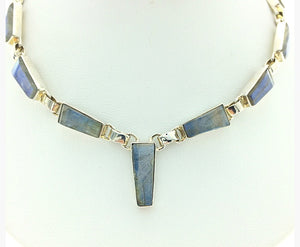 SALE
SALE
Here is a beautiful and contemporary necklace of faceted Labradorite stones set in sterling silver! This unique jewelry piece combines a simple sterling silver setting, with slim faceted labradorite stones--the unusual shape of the stones gives this necklace a clean, modern look. The necklace is finished with link-style sterling silver chain, so that it may be worn at multiple lengths. The flash of the stones is more visible in video, but the beauty of the labradorite really comes out in sunlight. This truly unique statement piece will be a treasured part of your jewelry wardrobe!
----
Keywords:
Labradorite--associated with dreams, protection, purification, magick, and ritual.
----
Please contact us via email or by phone for more details, or to receive more angles or a video of this specimen. Thanks!