Labradorite Budai Hotei Laughing Buddha AAA Handcarved Polished Carving Stone Art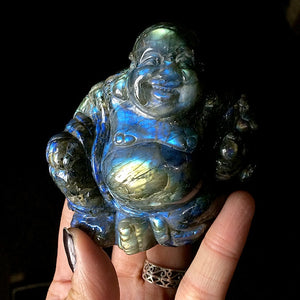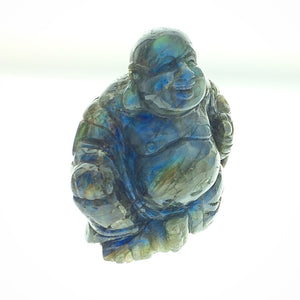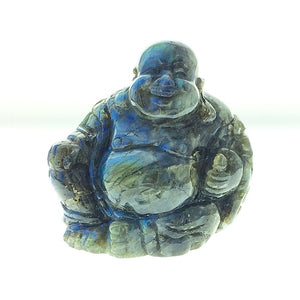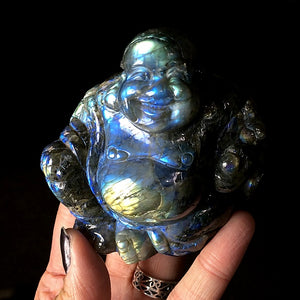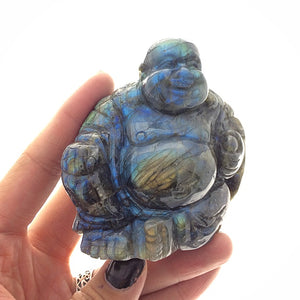 Here is a beautifully carved labradorite specimen, which has been lovingly shaped into a representation of the Laughing Buddha. The labradorite in this carving is AAA quality. This laughing buddha's details have been rendered in labradorite with green, gold, and blue flashes--the stone is from Madagascar. One of the photos shows the buddha photographed with a flash, but the true beauty of the stone is revealed under sunlight! Contact us for a video. The buddha displays abundant and rounded lines, with a wide base, small details and an overall curved and appealing shape. He will sit beautifully in any collection!
----
Locality: Madagascar (source of the labradorite).
Dimensions: 3.00" x 2.00" x 3.13" (78mm x 51mm x 81mm)
Weight: contact me

----
Keywords:
Labradorite--associated with dreams, protection, purification, magick, and ritual.
Laughing Buddha, aka Hotei or Budai, is worshipped as a deity in both the Chinese Buddhist Pantheon as well as the Japanese Buddhist Pantheon. He is often regarded as a traveling monk, bringing abundance and luck to all he meets. Budai is the "Future Buddha", the buddha to come. The laughing buddha is said to bring luck especially when his belly, sign of his wealth and abundance, is rubbed. A sign of luck and happiness for all!
----
Please contact us via email or by phone for more details, or to receive more angles or a video of this specimen. Thanks!