Hubei Turquoise #1 Sterling Silver Dangle Earrings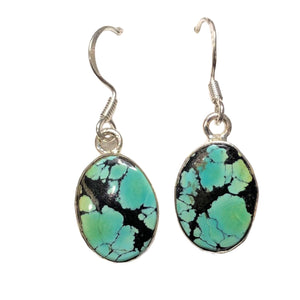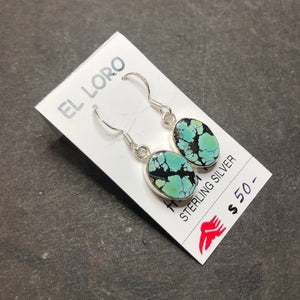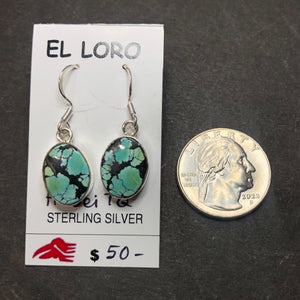 This is a beautiful pair of sterling silver earrings featuring Hubei Turquoise stones. These beautiful blue-green natural stones stand out against the simple sterling silver settings, and a dark spiderweb matrix adds to the bright colors and contrast. This is a modern yet classic look to flatter any style from boho to contemporary. 
This is a pair of cabochon-cut gemstone earrings hung on french wires--please examine scale photo and dimensions carefully. The stones are cut "en cabochon"--a domed or flat table with a flat back. Set in a simple sterling silver setting, these earrings will elevate any collection. These earrings would look ideal with anything in our extensive Turquoise collection, much of which is not yet listed here. Contact us for help putting a set together!  
Dimensions: 
1.38" long x 0.50" wide
---------------------------------------------------
PHYSICAL: Turquoise is a stone which is sensitive to temperature, and moisture. It must be cared for properly. Turquoise jewelry should always be taken off before showering, or using a hot tube or pool. You should also take turquoise jewelry when applying hairspray or perfume. 
HEALING: Turquoise is associated with wholeness, spiritual growth, and awareness.
LOCALITY: Hubei Province in China has been famous for its stone carving and jewelry for literally thousands of years. In modern times, Hubei turquoise has come to be recognized as one of the most graphic and beautiful turquoise varieties, and can occur in nearly any shade of green or blue. 
Care for gemstones in sterling silver jewelry: 
As with all natural stones set in silver, these jewelry pieces should be removed when taking a shower, swimming, or entering a hot springs. Water (especially hot water) can damage natural materials and even cause settings to fail. This is especially true with gemstone rings!

*Though many gems and minerals have historical and cultural associations with healing properties, these items are sold for wear in jewelry, display, study, and collector interest only.