Herkimer Diamond Quartz Raw Crystal Sterling Silver Stud Earrings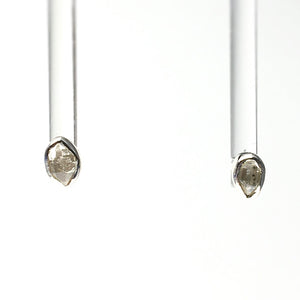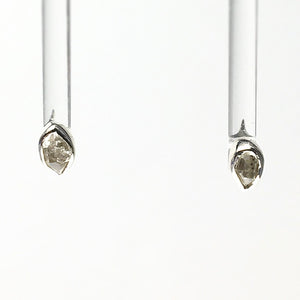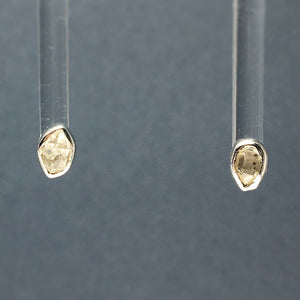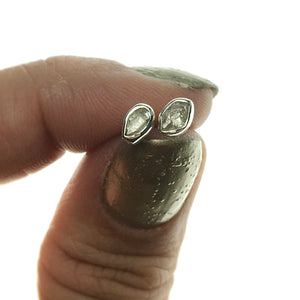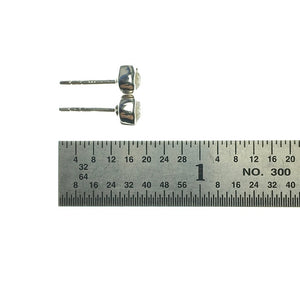 *Herkimer Diamond Quartz--the alternate birthstone for April*

This is a pair of small sterling silver stud earrings--please check dimensions and evaluate scale photos. This is a charming pair of herkimer diamond quartz crystals, surrounded by a simple sterling silver setting! They are simple and chic, and would flatter any style. The earrings are sold alone--they would look ideal matched to anything in our Herkimer Diamond Quartz collection (much of which is not yet listed on the website). Contact us if you would like help putting a set together!
Dimensions: 0.19" x 0.15" (5mm x 4mm)
-----------------------------------------------------------------------------------------------------------
PHYSICAL: Herkimer Diamond Quartz is a locality quartz from Herkimer County, NY; it forms miniature clear quartz crystals, usually double-terminated, on matrix rocks on the cliff sides there.
HEALING: Herkimer diamond Quartz is also a crown chakra gem, and the stones together are believed to protect and illuminate, supporting accelerated spiritual growth.


Care for gemstones in sterling silver jewelry: 
As with all natural stones set in silver, these jewelry pieces should be removed when taking a shower, swimming, or entering a hot springs. Water (especially hot water) can damage natural materials and even cause settings to fail. This is especially true with gemstone rings!

*Though many gems and minerals have historical and cultural associations with healing properties, these items are sold for wear in jewelry, display, study, and collector interest only.