Herkimer Diamond Quartz Natural Crystal Bead Strand Sterling Silver Necklace by Josephine Grasso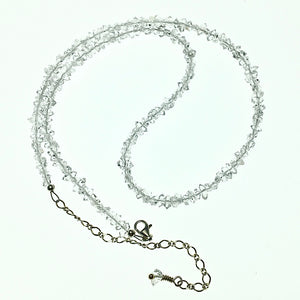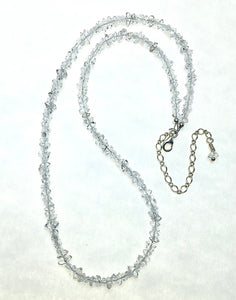 *Herkimer Diamond Quartz--the alternate birthstone for April*

This is a beautiful herkimer diamond quartz crystal strand necklace! It is one of our signature faceted collection, which are made in-house by jewelry artist Josephine Grasso. This crystal clear beaded necklace displays a little shine from the nature crystal beads, and also features sterling silver findings. The natural double-terminated shape of the crystals has been preserved, and clarity varies; natural features in the quartz crystals remain. The freshest way to wear these strands is to pair it with a complementary pendant, for a put-together look. Contact us if you would like help putting a set together!
Dimensions: 3-4mm crystal beads. 17 1/4" + 3" extender.

*Faceted Collection--our beaded bracelets and necklace strands are beaded by our in-house jewelry artist Josephine Grasso. They are strung on 49-strand American tiger tail (steel core beading wire with nylon outer), with sterling silver findings. Contact us if you are in search of a custom size or stone, and we will make it if possible.
-----------------------------------------------------------------------------------------------------------
PHYSICAL: Herkimer Diamond Quartz is a unique locality quartz--it is found in Herkimer County, NY. It is named "diamond" for the little quartz crystal's superficial resemblance to diamonds. Herkimer diamond quartz is nearly always double terminated, and extremely clear and well formed.

HEALING: Herkimer Diamond Quartz is associated with the higher mind and increased awareness, as well as elevated spiritual growth.

Care for gemstones in sterling silver jewelry: 
As with all natural stones set in silver, these jewelry pieces should be removed when taking a shower, swimming, or entering a hot springs. Water (especially hot water) can damage natural materials and even cause settings to fail. This is especially true with gemstone rings!

*Though many gems and minerals have historical and cultural associations with healing properties, these items are sold for wear in jewelry, display, study, and collector interest only.