Hematite Rose Unpolished Crystal Cluster Miniature Mineral Specimen (Drum Mtns., Utah, USA)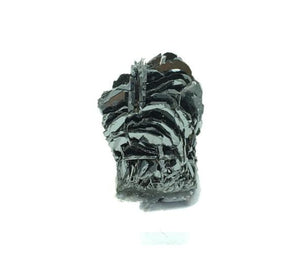 SKU: MIN-CLU-USA-HEM120-001
This is a lustrous specimen of hematite, in the beautiful "iron rose" habit. The rosette form is formed by many partial layers of crystallization. The cluster is notable for its striking structure as well as its color, which is a rich and lustrous gunmetal grey. It has been mounted for display on a 1" clear base. This is a unique specimen as it is from an American locality, and this area is not normally known for its fine hematite specimens, but rather its topaz and beryl. This raises its value! This small beauty is an excellent size, and would make a unique addition to mineral collections of any level and expertise.
 -----
Locality: Drum Mtns, south of Topaz Mtn, Utah.
Dimensions: 0.75" x 0.75" x 1.13" (19mm x 19mm x 29mm). Mounted on 1.00" clear base.

Weight: N/a (mounted)
 -----
Formation: Hematite is a heavy metallic element, and an important iron ore. It is found throughout the world, and forms as standalone specimens as well as inclusions in other minerals. Hematite is a prime component of rust and iron staining.
Healing: Hematite is extremely grounding, and also aids in manifestation. It is considered a Divine Feminine stone, and is also associated with protection. It is believed to stimulate the root chakra, and expresses aspects of the earth element.
----
Please contact us via email or by phone for more details, or to receive more angles or a video of this specimen. Thanks!