Green Tea Soft Green Morningstar Japanese Style Wood Free Incense Sticks-50 sticks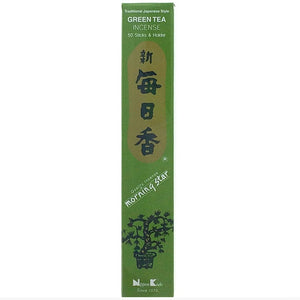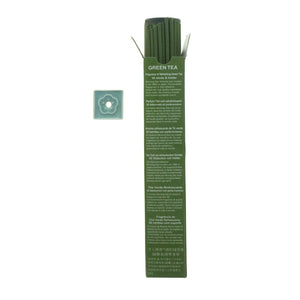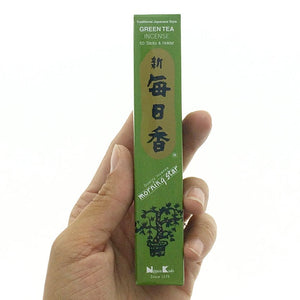 Green Tea Morningstar Incense sticks--a clean tea scent in one of our most popular incense styles!
Nippon Kodo's Morningstar Incense is based off of formulas that are more than 400 years old, and date back to the mastery of precious and rare oils and spices, given to the Emperor of Japan and his court. This Japanese incense company has existed since 1575, and continues to make high-quality incense that is intended for everyday use. Morningstar Incense is a well-loved style of hand-rolled Japanese incense sticks. They are pure blended incense powder sticks, with no stick in the center--the lack of wood makes these sticks burn quickly, with a pure and clean scent. This style of incense is perfect for those who may find the scent of traditional Indian-style incense to be too heavy or smoky--Japanese style sticks burn with less smoke and a lighter scent.
We have two sizes: a small box with 50 sticks and tiny burner, and a larger size with 200 sticks and tiny burner. For an excellent value, select the 200 stick size. We stock the smaller size box in all varieties, and the larger size is in stock when available. If something is out of stock, please contact us to be notified when it is available!
*Incense, Sage, Palo Santo, sweetgrass, and candles should never be left burning unattended. Please contact us with questions about appropriate holders and burners for each item, and never burn in a flammable or paper-based burner. Completely put out all flames, embers, and coals when finished burning.