Grape Agate Chalcedony Stalactite Sections Crystals Cabinet Unpolished Crystal Cluster Indonesia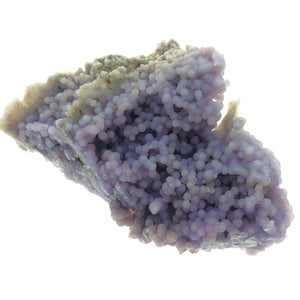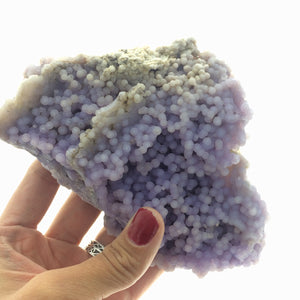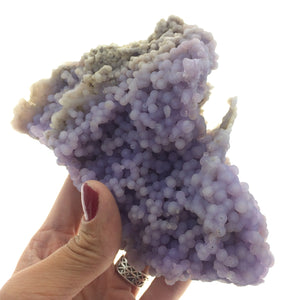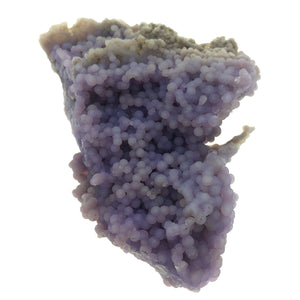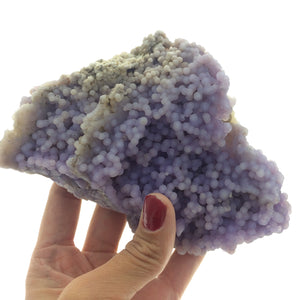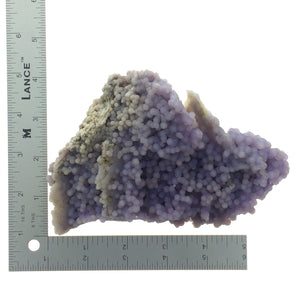 SKU: MIN-CLU-IND-GRAPE186
This mouth-watering specimen is totally unique: a large cluster of bubbly grape agate, from Indonesia! Grape agate is actually a type of botryoidal amethystine chalcedony--botryoidal means globular, or grape-like clusters (fitting!). This large and substantial specimen has a unique structure and appealing and varying shades of purple. It would look equally beautiful displayed flat, as shown, or upright on a stand.
Grape agate is not a true agate at all--rather, it is an amethystine chalcedony variety (as chalcedony is also a form of quartz, the combination is a unique intergrowth of related minerals.)
*NOTE: Amethyst and chalcedony should not be displayed for prolonged periods in sunlight, as its color can fade.
----
Locality: Indonesia
Dimensions: 6.00" x 4.38" x 2.75" (156mm x 114mm x 72mm)
Weight: 522 grams (18.4 oz, 1.15 lbs)
----
Keywords:
Amethyst--the purple quartz variety. Amethyst is associated with the crown chakra, with spiritual guidance and higher self. Amethyst is thought to protect and purify, while supporting dreams. It is also believed to aid one in releasing negative habits and attachments. Chalcedony is associated with calm, peace, and soothing energy.
----
Please contact us via email or by phone for more details, or to receive more angles or a video of this specimen. Thanks!