Gilson Opal Rainbow Fire Lab Created Gemstones Mosaic Inlaid Sterling Silver Necklace and Earring Set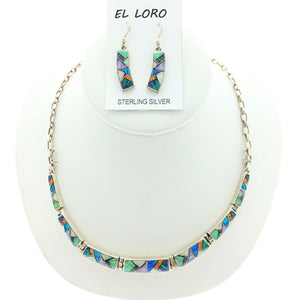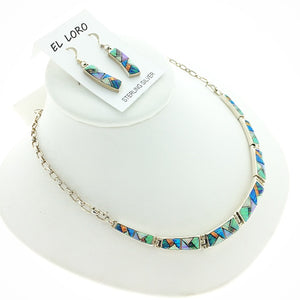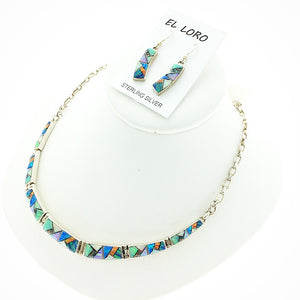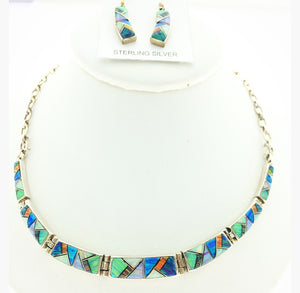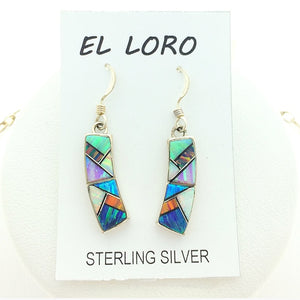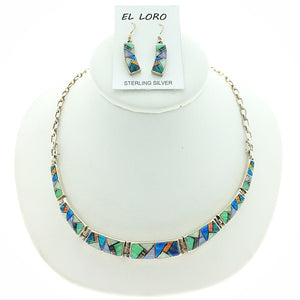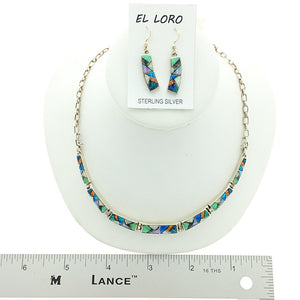 SKU: NECK925-GILOP440-001
This is a beautifully crafted set of necklace and earrings, made from Gilson Opal stones inlaid in sterling silver. The set has a contemporary, artistic style, and combines the simple setting with the complexity of the fiery labratory-created opals. The necklace is a solid semi-circle formed from multiple inlaid links, and finished in a link style sterling silver chain. It is designed to be adjustable and to be able to be worn at different lengths. The accompanying earrings are identical to the inlaid links in the necklace, giving the set a well-matched and cohesive style. This beautiful, colorful necklace could be dressed up or dressed down, and would shine as a truly unique addition to any collection! (Contact us for length and dimensions of the set, as well as pictures of it being worn.)
Gilson opals are the laboratory grown form of the mineraloid Opal--they are synthesized to resemble a perfect opal. Although these opals are synthetic, they are as beautiful and fiery as the most lovely natural opals, as well as being more durable and resistant to crazing (hairline cracking which occurs in opals). This necklace should be taken off when showering or swimming, and chemicals should not be sprayed on the opals.
Keywords: Psychic energy, intuition, inner journeys, Dreamtime.
Chakra: Third Eye (6)
Element: Wind
Care for gemstones in sterling silver jewelry: 
As with all natural stones set in silver, these jewelry pieces should be removed when taking a shower, swimming, or entering a hot springs. Water (especially hot water) can damage natural materials and even cause settings to fail. This is especially true with gemstone rings!

*Though many gems and minerals have historical and cultural associations with healing properties, these items are sold for wear in jewelry, display, study, and collector interest only.