Gilson Opal Lab Created Rainbow Heart Shaped Gem Synthetic Sterling Silver Pendant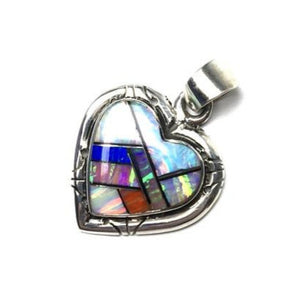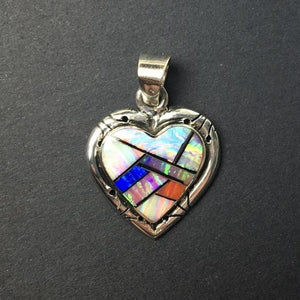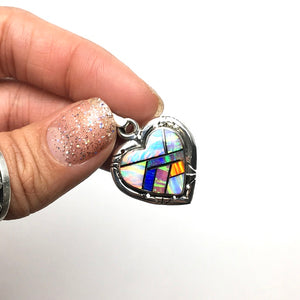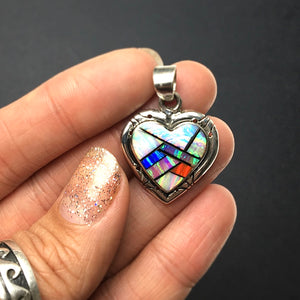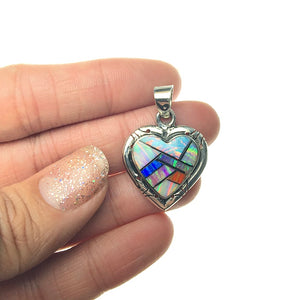 *Opal—the primary birthstone of October*
This eye-catching, super sparkly pendant features inlaid mosaic slices of laboratory-created opal! This type of created opal is known as Gilson Opal. Set in sterling silver, this piece is a beautiful and modern addition to any collection. This heart shaped pendant would look ideal on one of our sterling silver chains, or on one of our signature faceted strands—find strands in Necklaces & Sets. Contact us for help putting a set together!

Dimensions: 1.13" x 0.88" x 0.13" (29mm x 23mm x 3mm)
-------------------------
Gilson Opal
PHYSICAL: Laboratory created—this synthesized opal is optically perfect, with higher durability than natural opals, but should not be sold as natural. 
HEALING: Opals are associated with intuition, inner journeys, and inner work. El: Wind. Ch: Third Eye (6).

Care for gemstones in sterling silver jewelry: 
As with all natural stones set in silver, these jewelry pieces should be removed when taking a shower, swimming, or entering a hot springs. Water (especially hot water) can damage natural materials and even cause settings to fail. This is especially true with gemstone rings!

*Though many gems and minerals have historical and cultural associations with healing properties, these items are sold for wear in jewelry, display, study, and collector interest only.