Garnet Red Faceted Gemstone Beaded Chain Sterling Silver Bracelet by Josephine Grasso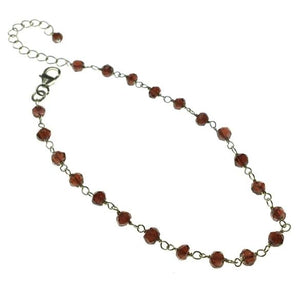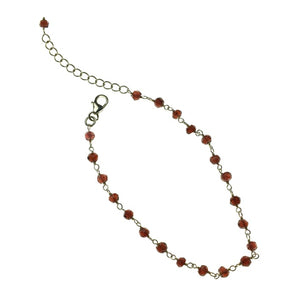 *Garnet--the primary birthstone for January*

This is a beautiful garnet faceted beaded chain bracelet! It features tiny faceted garnet beads interspersed with sterling silver chain links, creating a bracelet that is delicate and unique. This is part of the collection of stone bracelets which are made in-house by jewelry artist Josephine Grasso. This deepest red faceted beaded bracelet displays shine and sparkle from the faceting, and also features an extender chain. Also, we have an extensive collection of Garnet earrings, bracelets, rings, and beaded strands, many that are not listed here. Contact us if you would like help putting a set together!
Dimensions: 2-3mm beads, 7" + 1.5" adjustable chain

-----------------------------------------------------------------------------------------------------------
PHYSICAL: Garnet is a group of silicate minerals, that forms in every color except blue. Garnets are known for their unique geometric shapes and vibrant shades--the most common variety is Almandine, or alternately Pyrope--the true red garnet varieties.

HEALING: Almandine garnet is associated with strength, health, vitality, and fidelity.
Care for gemstones in sterling silver jewelry: 
As with all natural stones set in silver, these jewelry pieces should be removed when taking a shower, swimming, or entering a hot springs. Water (especially hot water) can damage natural materials and even cause settings to fail. This is especially true with gemstone rings!

*Though many gems and minerals have historical and cultural associations with healing properties, these items are sold for wear in jewelry, display, study, and collector interest only.