Garnet Dark Faceted Crystal Sterling Silver Dangle Earrings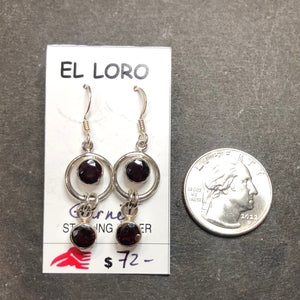 *Garnet--the primary birthstone for January*
This is a pair of medium sized faceted earrings--please read dimensions and examine scale photos carefully! This is a pair of unique round shaped faceted garnet cut gems, which are surrounded by a contemporary sterling silver setting. The earrings remind me of little bubbles, and the garnets are so dark as to almost look black, but look red when light passes through them. The earrings are sold alone--they would look ideal as a set from our Garnet collection, many of which are not yet on the website. Contact us if you would like help putting a set together!
Dimensions: 
1.63" long x 0.50" wide
---------------------------------------------------
PHYSICAL: Garnet is a complex group of closely related minerals, which vary in chemical and physical properties from each other. Almandine, seen here, is the most common variety in both specimens and jewelry. Garnet naturally forms cubes, octahedra, and dodecahedra, though the shape here has been cut by man.
METAPHYSICAL/CULTURAL: Almandine Garnet is associated with grounding, vitality, health, and physical strength. Garnet is connected to the Root Chakra (1st) and the earth element.
Care for gemstones in sterling silver jewelry: 
As with all natural stones set in silver, these jewelry pieces should be removed when taking a shower, swimming, or entering a hot springs. Water (especially hot water) can damage natural materials and even cause settings to fail. This is especially true with gemstone rings!

*Though many gems and minerals have historical and cultural associations with healing properties, these items are sold for wear in jewelry, display, study, and collector interest only.