Fossilized Coral Herkimer Diamond Quartz Tourmalinated Quartz Spinel Sterling Silver Pendant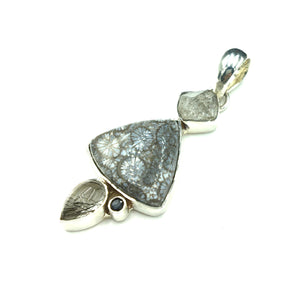 This is an unusual multistone pendant, featuring a unique combination of unique and different gems! It features a large Fossilized Coral cabochon stone, and has been paired with an included clear DT crystal known as a Herkimer Diamond Quartz; "diamond" simply refers to the appearance of these unique double terminated quartz crystals from Herkimer County, NY. The pendant is completed by a tourmalinated quartz teardrop stone and a tiny faceted black spinel dot.
This particular piece is a raw and organic combination of several different stones; it has been wrapped in sterling silver in a very simple setting, putting the focus on the stones.The setting is somewhat asymmetrical, with silver bezel setting, and a solid sterling bail to complete the look. This piece adds an earthy yet high vibration edge to any jewelry collection. All pendants are sold separately—you may purchase a chain in Sterling Silver Chains, and contact us to see more of our Collection. 
Dimensions: 2.00" x 0.80" (51mm x 21mm)
---------------------------------------------------
PHYSICAL: Fossilized coral is the agatized remains of ancient corals, which were buried by sediment and fossilized over many years. Herkimer Diamond Quartz is a locality quartz from Herkimer County, NY; it forms miniature clear quartz crystals, usually double-terminated, on matrix rocks on the cliff sides there. Tourmalinated Quartz is clear quartz included with fine needles of tourmaline, often but not always black tourmaline. Spinel is a family of silicate minerals, which form in black along with many other colors. 
HEALING: Fossilized coral is associated with growth and feminine energy. Herkimer diamond Quartz is believed to protect and illuminate, supporting accelerated spiritual growth. Tourmalinated quartz is associated with purification, and transmutation of negative energy. Black spinel is associated with focus and strength. 
Care for gemstones in sterling silver jewelry: 
As with all natural stones set in silver, these jewelry pieces should be removed when taking a shower, swimming, or entering a hot springs. Water (especially hot water) can damage natural materials and even cause settings to fail. This is especially true with gemstone rings!

*Though many gems and minerals have historical and cultural associations with healing properties, these items are sold for wear in jewelry, display, study, and collector interest only.