Ethiopian Opal Welo Rainbow Fire Triangle Sterling Silver Pendant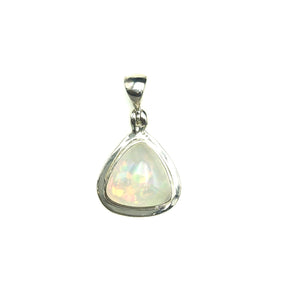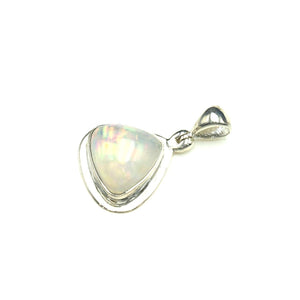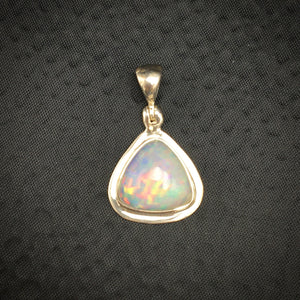 This is a mini size, rounded triangular shaped natural Ethiopian Opal pendant set in sterling silver! It is a beautiful sparkly Ethiopian opal with pale golden body color, and impressive rainbow fire. (All pendants are sold separately—you may purchase a chain in Sterling Silver Chains, and contact us to see more of our Ethiopian Jewelry collection.)

*This pendant requires special care—please see Care Notes.*
Locality: Ethiopia
Dimensions: 
1.00" x 0.63" (26mm x 16mm)

Ethiopian Opals are precious white opals found in Ethiopia, forming in all colors of the rainbow. These opals form in rhyolite, and are known for their hydrophane and contra luz properties.

Keywords: Psychic energy, intuition, inner journeys, Dreamtime.
Chakra: Third Eye (6)
Element: Wind
*Note: Ethiopian opals must stay out of water and away from heat and chemicals, which may damage the opal irreparably. Ethiopian Opals do not have the stability that Australian stones are known for--the stones may change color permanently or craze (hairline fracture) if exposed to water or heat.
Care for gemstones in sterling silver jewelry: 
As with all natural stones set in silver, these jewelry pieces should be removed when taking a shower, swimming, or entering a hot springs. Water (especially hot water) can damage natural materials and even cause settings to fail. This is especially true with gemstone rings!

*Though many gems and minerals have historical and cultural associations with healing properties, these items are sold for wear in jewelry, display, study, and collector interest only.