Druzy Fossil Shell Natural Crystallized Fossilized Slice Sterling Silver Pendant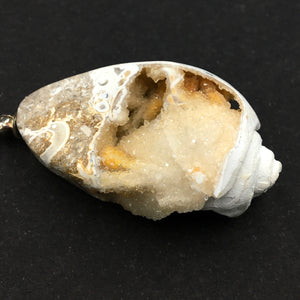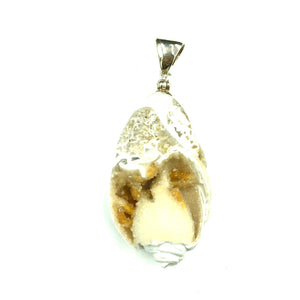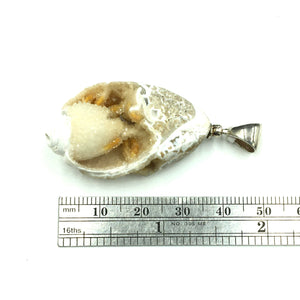 This is striking natural shell fossil, partially replaced by druzy Quartz crystallization, set in a sterling silver pendant! The pendant is sold alone; chains may be purchased separately in the Sterling Silver Chain section. Contact us to see our other fossil earrings, necklaces, and rings, many that are not listed here.
Dimensions: 0.88" wide x 2.00" long (22.37mm x 50.45mm)
---------------------------------------------------
Care for gemstones in sterling silver jewelry: 
As with all natural stones set in silver, these jewelry pieces should be removed when taking a shower, swimming, or entering a hot springs. Water (especially hot water) can damage natural materials and even cause settings to fail. This is especially true with gemstone rings!

*Though many gems and minerals have historical and cultural associations with healing properties, these items are sold for wear in jewelry, display, study, and collector interest only.