Crocoite #6 (Adelaide Mine, Tasmania)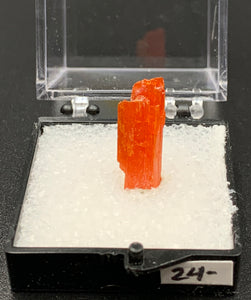 *This is a very small miniature, known as a thumbnail specimen. Please examine scale photo and consider dimensions carefully.* Thumbnail specimens are mounted in small display boxes known as perky boxes, and contain locality information. They are designed so that they are ready for display, or may be unmounted for any use including jewelry supply. An ideal and efficient tiny treasure, for any collection
—————
Mineral Name: Crocoite
Locality: Adelaide Mine, Tasmania. 
Dimensions: .17" x .7" (4 mm x 18 mm)
Characteristics of this specimen:  a slim single Crocoite crystal, in the dynamic bright orange shade for which this mineral is famous! 
Care Notes: 
-----
PHYSICAL: 
Crocoite is a chromate mineral that typically occurs as long prismatic crystals, with generally poor terminations. It is an uncommon mineral that occurs as a secondary mineral in lead deposits, in association with chromium-bearing rocks. Crocoite most often occurs in this classic hyacinth-red shade--it may also occur in orange and bright yellow. 
Healing Properties: Crocoite is associated with the root and sacral chakras--its bright orange-red shade is believed to stimulate energy, zest for life, and passionate expression. Crocoite is associated with physical health and vitality. 
-----
Please email us if you would like a video, or if you have more questions about this item.