Green Fluorite Lord Ganesha Peacock XL Handcarved Polished Carving Stone Art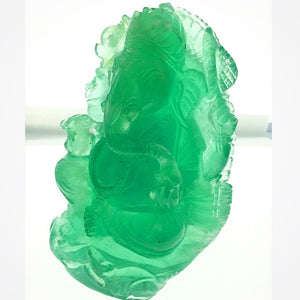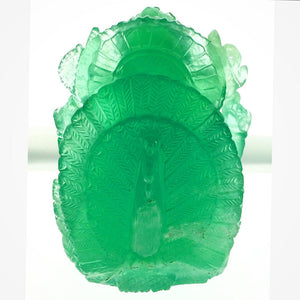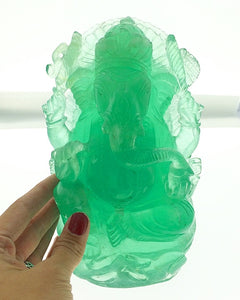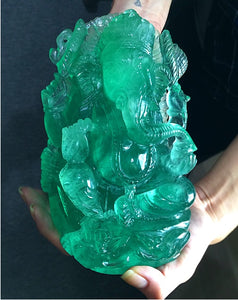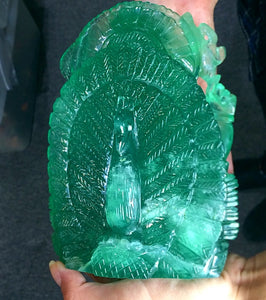 Here is a fantastic handcarved depiction of the Hindu god Ganesha, god of wisdom and remover of obstacles. The elephant-headed god has been carved with amazing details and beautiful curved lines--around his back is curved a delicately detailed peacock. The statue is carved from lustrous, brightly colored green fluorite--it is translucent when backlit, as shown. This is a very large and substantial carved stone figure, and would hold pride of place in any collection.
*NOTE: Fluorite should not be displayed in prolonged sunlight, as its color made fade.
----
Locality: China (source of the fluorite).
Dimensions: 5.25" x 5.25" x 6.50" (137mm x 137mm x 170mm)
Weight: contact us
----
Keywords:
Green Fluorite--associated with growth, learning, and clearing of negativity. A stone of students and teachers, it is associated with mental focus and acuity.
Lord Ganesha is the Hindu god of wisdom, learning, and remover of obstacles. Ganesha is the god to pray to when you are attemping a new project or idea, as he is believed to assist in removing obstacles from success.
----
Please contact us via email or by phone for more details, or to receive more angles or a video of this specimen. Thanks!