Clinochlore coating Quartz #4 Thumbnail Specimen (Pelingichey Deposit, Russia)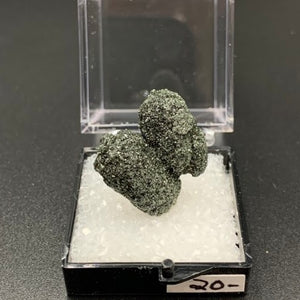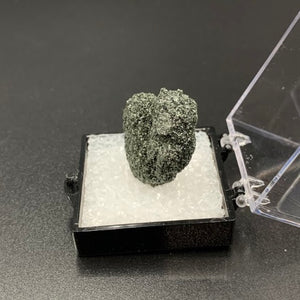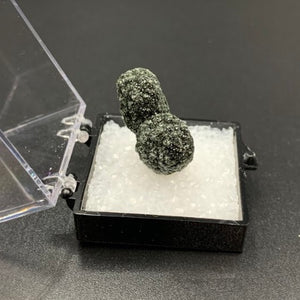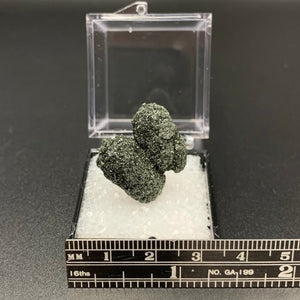 *This is a very small miniature, known as a thumbnail specimen. Please examine scale photo and consider dimensions carefully.* Thumbnail specimens are mounted in small display boxes known as perky boxes, and contain locality information. They are designed so that they are ready for display, or may be unmounted for any use including jewelry supply. An ideal and efficient tiny treasure, for any collection!
-----
Mineral Name: Clinochlore coating Quartz

Locality: Pelingichey Deposit, Komi Republic, Urals, Russia.

Dimensions: 0.96" x 0.88" (25mm x 23mm)

Characteristics of this specimen: Green, shiny or sparkly layers of mica-like green chlorite have coated quartz, resulting in a unique growth with organic, freeform apearance.

Clinochlorite is part of the chlorite group--a phyllosilicate, it is closely related to mica. Like other chlorite minerals, it occurs mainly in slightly metamorphosed rocks, and it commonly forms in and on the surface of quartz crystals.
Care Notes: As a soft, platey mineral, keep away from abrasive or hard stones that may scratch off the surface plates.

-----
Healing Keywords: Chlorite is associated with regenerative properties, recognition and respect for nature.

-----
Please email us if you would like a video, or if you have more questions about this item.