Chrysocolla Faceted Gemstone Bead Strand Sterling Silver Necklace by Josephine Grasso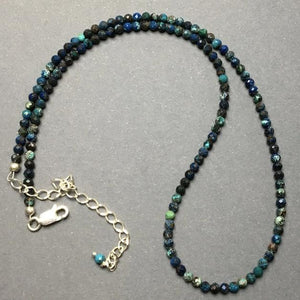 This is a beautiful chrysocolla faceted strand necklace! It is one of our signature faceted collection, which are made in-house by jewelry artist Josephine Grasso. This deep blue and green variegated faceted beaded necklace displays a little shine from the faceting, and also features sterling silver findings. The freshest way to wear these strands is to pair it with a complementary pendant, for a put-together look. Contact us if you would like help putting a set together!
Dimensions: 3mm faceted beads. 16" + 3" extender.

*Faceted Collection--our beaded bracelets and necklace strands are beaded by our in-house jewelry artist Josephine Grasso. They are strung on 49-strand American tiger tail (steel core beading wire with nylon outer), with sterling silver findings. Contact us if you are in search of a custom size or stone, and we will make it if possible.
-----------------------------------------------------------------------------------------------------------PHYSICAL: PHYSICAL: Chrysocolla is a copper silicate mineral that forms in varying shades of blue. It forms in association with quartz, malachite, cuprite, and more. 
HEALING: Chrysocolla is associated with gentleness, power, and self-expression. It is connected to the throat chakra and heart chakra.
Care for gemstones in sterling silver jewelry: 
As with all natural stones set in silver, these jewelry pieces should be removed when taking a shower, swimming, or entering a hot springs. Water (especially hot water) can damage natural materials and even cause settings to fail. This is especially true with gemstone rings!

*Though many gems and minerals have historical and cultural associations with healing properties, these items are sold for wear in jewelry, display, study, and collector interest only.