Bloodstone Heliotrope Gemstone on Sterling Silver Pendant by Tim Grasso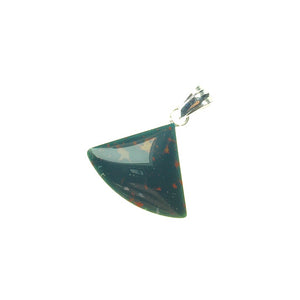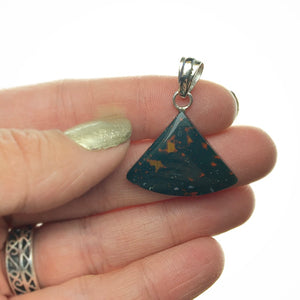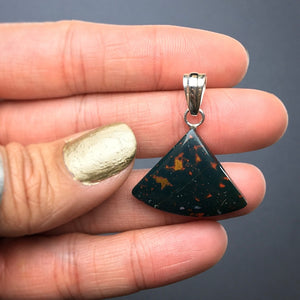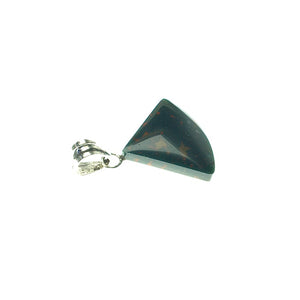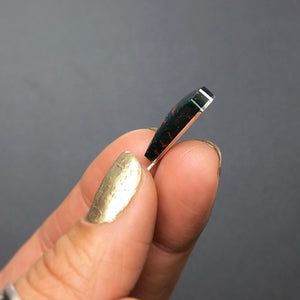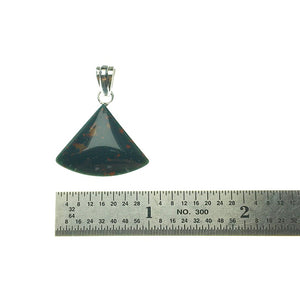 *Bloodstone--the alternate birthstone for March*
This is a small fan-shaped sterling silver Bloodstone pendant! The deep green colors of the stone are punctuated by red and golden patterns, giving it a distinctive look. The pendant would look ideal on a sterling silver chain, or on one of our signature faceted strands. The pendant is sold alone, and any chain you would like to pair it with can be purchased separately in the Sterling Silver Chain section, while faceted strands may be found in Necklaces & Sets. Contact us if you would like help putting a set together!
This modern pendant has been set in a contemporary open setting, which lays the stone on a back layer of sterling silver but keeps the edges and face of the stone open. The jeweler's epoxy use to attach the stone to the silver back has a high level of durability and is baked onto the stone, making it extremely durable. This pendant is made by artist Tim Grasso, our in-house lapidary and wirewrap artist.

Dimensions: 1.25" x 1.00" (31mm x 26mm)
-----------------------------------------------------------------------------------------------------------
PHYSICAL: Bloodstone, aka heliotrope, is a deep green chalcedony with red spots. It is a member of the quartz family, as with all agates, jaspers, and chalcedony minerals. Bloodstone has been worn as a protective amulet and talisman in many ancient cultures.
HEALING: Bloodstone is associated with vitality, strength, and courage.

Care for gemstones in sterling silver jewelry: 
As with all natural stones set in silver, these jewelry pieces should be removed when taking a shower, swimming, or entering a hot springs. Water (especially hot water) can damage natural materials and even cause settings to fail. This is especially true with gemstone rings!

*Though many gems and minerals have historical and cultural associations with healing properties, these items are sold for wear in jewelry, display, study, and collector interest only.