Barite Golden Blades Unpolished Crystal Cluster Mineral Specimen (Morocco)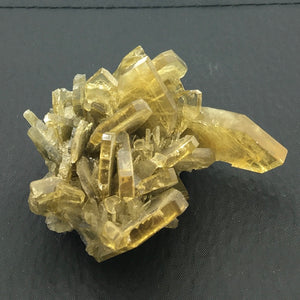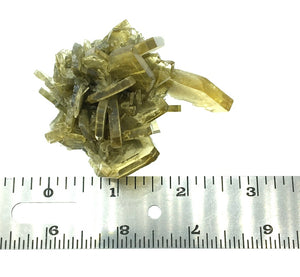 SKU: MIN-CLU-MOR-BAR150-001
This warmly shaded beauty is golden barite crystals, in a radiating cluster form. This distinctive cluster is a classic mineral specimen from Morocco. This cluster is unique and aesthetic from all angles, with blade-like crystals with color zones and phantom-like growths. Crystal vary in size and level of perfection, with some damage present. An attractive addition to any mineral collection!
----
Locality: Morocco
Dimensions: 2.13" x 1.63" x 2.75" (54mm x 42mm x 72mm).

Weight: contact me

----
Formation: Barite is a barium sulfate mineral, which forms in clear and yellow crystals. It is the main source of barium, and is known for its blocky crystals and high density.
Healing: Barite is believed to connect us to higher knowledge, access to information and clears blockages that prevent us from connecting to our intuition.
----
Please contact us via email or by phone for more details, or to receive more angles or a video of this specimen. Thanks!