Trilobite #3 Fossil Thumbnail Specimen (Delta, Utah)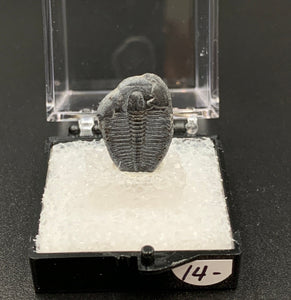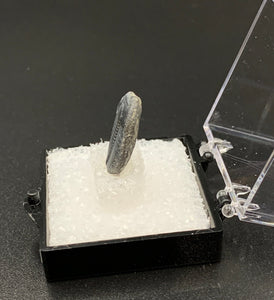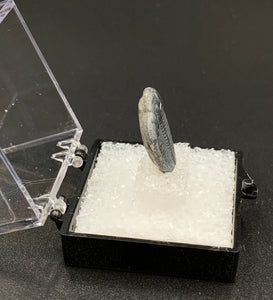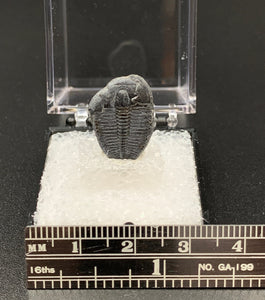 *This is a very small miniature, known as a thumbnail specimen. Please examine scale photo and consider dimensions carefully.* Thumbnail specimens are mounted in small display boxes known as perky boxes, and contain locality information. They are designed so that they are ready for display, or may be unmounted for any use including jewelry supply. An ideal and efficient tiny treasure, for any collection
—————
Mineral Name: Trilobite Fossil 
Locality: 
Trilobite Quarry, Delta, Utah
Dimensions: 0.63" x 0.47" (16mm x 12mm)
Characteristics of this specimen: A small, matte textured dark fossil resembling a pill bug. 
Care Notes: 
-----
FORMATION: Trilobite were a group of extinct fossil bug-like Arthropods, which appeared in the Cambrian Period (approx 542 mil. yrs. ago). Trilobite relatives existed as late as approx. 251 mil. yrs. ago, into the Permian Period. Trilobites varied in size (small up to 24", and 10 lbs in weight), as well as physical characteristics and feeding habits. 
They shed their exoskeletons, many of which are seen fossilized now. The Wheeler Shale in Delta, Utah, is one of the densest deposits of Cambrian trilobites in the world, and contains more than 8 species in the limestone shale deposits. 
HEALING KEYWORDS: Fossils are associated with deep inner work, growth, slow and steady progress, and seeing the big picture. 
-----
Please email us if you would like a video, or if you have more questions about this item.