Sulfur #1 Thumbnail Specimen (Steamboat Hot Spgs, Nevada)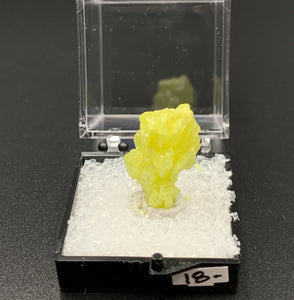 *This is a very small miniature, known as a thumbnail specimen. Please examine scale photo and consider dimensions carefully.* Thumbnail specimens are mounted in small display boxes known as perky boxes, and contain locality information. They are designed so that they are ready for display, or may be unmounted for any use including jewelry supply. An ideal and efficient tiny treasure, for any collection!
-----
Mineral Name: Sulfur

Locality: Steamboat Hot Springs, South Reno, Washoe Co., Nevada.

Dimensions: 0.85" x 0.58" (22mm x 15mm)

Characteristics of this specimen: Sulfur is the fifth most abundant element on earth, and is usually found in sulfide and sulfate form. However, it uniquely forms as an uncombined element as well; in its native form, as seen here, it forms brilliant yellow crystals, often hoppered and terminated. These crystals are often odoriferous and soft, with a unique look and smell!

Care Notes: Sulfur should be stored properly; wash hands after handling, and keep out of the elements.

-----
Healing Keywords: Sulfur is associated with creativity, inspiration, and using energy wisely.

-----
Please email us if you would like a video, or if you have more questions about this item.